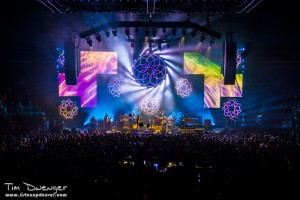 Photos by Tim Dwenger
The Scene: The excitement in the air was palpable as we rolled into the 1stBank Center just as Del McCoury and his band hit the stage.  Costumes abounded, glitter and blinking lights dazzled the eyes, and thousands of balloons hung suspended from the ceiling in giant nets.  It was a String Cheese New Year's Eve Incident and, having attended two of these in the past, I wouldn't have expected anything less.
Opener: The Del McCoury Band. Taking the stage at 7:15 sharp, these legends of Bluegrass turned the cavernous venue into a hoe-down as they huddled around a microphone and their fingers danced on the strings.  Led by patriarch Del McCoury and his amazing flatpicking, this band is the real deal.  McCoury started his career playing with the legendary Bill Monroe in the early 60's but when his sons Ronnie and Robbie began performing with him in the 80's, the popularity of the band took off and they even won a Grammy in 2006.  While their sound got a little lost toward the back of the venue, I was thrilled to hear one of my all time favorite songs, Richard Thompson's "1952 Vincent Black Lightning," late in the set.  I've always loved this song and to hear Del's crystal clear high lonesome voice carry the tune was blissful.
The String Cheese Incident: New Year's Eve: it's the height of expectations in the Jamband world and simply put it's nearly impossible to live up to the hype.  Sure, last year SCI blew us all out of the water with an incident for the ages, but I have to admit I was a little skeptical about whether they could do it again.
Let's get this out of the way up front, they didn't do it again.  Despite the showers of sparks, snow globes, acrobats and a "Rivertrance" at midnight, they didn't match last year's performance.  That said, this was very solid show.
The boys kicked things off in grand fashion by emerging on-stage in tuxedos accompanied by all of Del McCoury Band.  They tore through blistering versions of "Rolling In My Sweet Baby's Arms" "Shenandoah Breakdown" and "Cold Rain & Snow" before Del and most of his band left the stage leaving only Jason Carter and Ronnie McCoury to dress up a monster "Birdland" sandwiched around the Bluegrass standard "Wheel Hoss."  Everything was shaping up superbly until Kang dropped "Give Me The Love" midway through the set.  Despite being an SCI original, this tune reeks like a cheesy off-Broadway showtune (pun intended) and sapped most of the energy from the room as the bathrooms filled up and the beer lines got long.
The band grabbed a hold of the low energy in the room and allowed us all to slowly get sucked back in as they patiently built "Way Back Home" to fiery peak that led into a "Valley of Jig" that really had the crowd raging with high expectations for the rest of the show as the boys disappeared for the first of two set breaks.
As we mingled and waited for set two to begin, we all agreed that the first set had been good and, in fact, better than we'd expected but I'd be lying if I said I wasn't a bit disappointed with the song selection for the second stanza.  While "Water" and "Sirens" have been staples of the SCI rotation for a while now, they aren't my favorite tunes and while I dig Nershi's "Windy Mountain," it's placement just didn't feel right. When the set needed a pick-me-up, the newish Reggae original "Stay Thru" just didn't do the job that, say, "Shantytown" might have in the same slot.  Like the first, the second set ended on a strong note for me as the band closed out with a surprisingly good version of "Las Vegas" that led into the always electric "Desert Dawn" that left me smiling despite the jam dragging a bit midway through the song.
It may sound like I'm really trashing this show, but that's not what I'm trying to do here.  I'll tell you that despite questionable song selection, the band played very well throughout the night and seemed to be having more fun together than I've seen them have in a while.  Kang was going toe-to-toe with Nershi and Mosely often and there were grins flashing across the stage as jams built organically to really frenetic peaks.  I guess my real question as an "old-school" Cheese fan is where were the songs like "Born On The Wrong Planet," "Texas," "Black Clouds," "Johnny Cash," "Search" "On The Road," "Shine," and the aforementioned "Shantytown."  There were so many crowd pleasers left on the shelf during this run, and especially this New Year's performance, that I just have to wonder "why?"
As the clock pushed toward midnight, SCI emerged to kick off the final set with "Rivertrance."  It was a great selection to ring in the New Year and as acrobats dangled from the ceiling and snowglobes filled with confetti and dancers popped up around the arena I was waiting for the real eye candy to begin.  A pair of giant nets were lowered over the crowd in front of the soundboard and several people descended on ropes as giant light sticks poured down on the smiling faces below and I figured we were in for something truly special, but aside from the obligatory balloon drop, some confetti, and some admittedly cool showers of sparks, there was nothing to equal last year's truly breathtaking spectacle.  Maybe the boys set the bar too high last year?  It's possible, but this is a band that is known for upping the ante year-in and year-out and this year's theatrics simply fell short.
Couple that with the fact that they slipped into "Let's Go Outside" next and I was let down.  They had played "Let's Go Outside" last year just before midnight and while the songs lyrics are appropriate ("let's go outside our minds and play") I felt it showed a lack of creativity and a willingness to allow things to get a little stale.  Just as I was growing a little stoic Nershi's "Smile" brought a smile to my face and I danced my way into 2014 with The Talking Heads' "This Must Be The Place (Naive Melody)" and a pair of reprises from the 1st night of the run: "Sgt. Pepper's Lonely Hearts Club Band" and "Just One Story."  It was a clever way to tie things together but as we all cheered them offstage I bet a buddy that we were going to get a "Colorado Bluebird Sky" encore and low and behold I was right.  In all honesty it was an unfair bet as this is another example of the boys letting things get a little stale.  "CBS" is becoming their go to song in spots like this.  It's showing up so often that it's loosing it's luster and that's sad, because it's really a great song–one of the best of the post-hiatus originals in my opinion.
Given the fact that they are releasing a new album this year I would have loved to hear a "Can't Stop Now" or "Good Times Around the Bend" encore or maybe "Sing A New Song" or hell . . . maybe "Up The Canyon," "BAM!" or "Resume Man."  The catalog is deep, full of great songs and nights like this are the nights you should mine that catalog and serve up the tastiest of nuggets.  They played well, very well even, but there was something missing this New Year's at 1stBank and I hope the boys can find it in the future.  We all know what they are capable of, and on the big stages we've come to expect it . . . for better . . . or worse.
12/31/2013 1st Bank Center – Broomfield, CO
Set 1: Rolling In My Sweet Baby's Arms1 > Shenandoah Breakdown1, Cold Rain & Snow1, Birdland 2 > Wheel Hoss2 > Birdland2, Give Me The Love > Way Back Home, Valley Of The Jig
Set 2: Water, Colliding > Sirens, Windy Mountain > Stay Thru, Las Vegas > Desert Dawn
Set 3: Rivertrance > Happy New Year, Let's Go Outside > Smile, Drums > It Is What It Is, This Must Be The Place > Sgt Pepper's Lonely Hearts Club Band (Reprise), Just One Story (Reprise)
Encore: Colorado Bluebird Sky
Notes: 1 with Del McCoury Band, 2 with Jason Carter and Ronnie McCoury (Fiddle and Mandolin),
Energy: B+
Musicianship: A
Sound: A-
Stage Presence: A-
Set / Light Show: A
Overall: B+
Music has always been a part of my life. It probably all started listening to old Grateful Dead, Peter Paul & Mary, and Simon & Garfunkel records that my parents had, but it wasn't long before they were taking me to concerts like Starship, Crosby, Stills & Nash, and Huey Lewis & The News. I got the bug to write about music after reviewing an Eric Clapton concert for a creative writing project in high school but didn't really take it up seriously until 2002. Since then I have published countless articles in The Marquee Magazine and done some work for Jambase.com, SPIN Magazine, and various other outlets. I started Listen Up Denver! as a way to share the music information that is constantly spilling out of my head with people who care. Please enjoy!