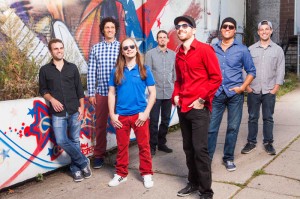 Why You Should Go: The Motet is celebrating their sixth studio release, Dig Deep, at The Fillmore on Saturday!  With an astonishingly talented cast of musicians, this band has refined their sound and their vision into a dynamic and expressive improvisational force. The group began over ten years ago and hasn't let up since. The Motet is a world-class ensemble that whips audiences into a whirlwind using sheer impromptu force. The rhythms are spontaneous and textured and the beats are hard driving. The band uses this energy to create a rapport between the audience and themselves that is rarely seen in today's world of manufactured rock. The Motet consecrates the ground on which dance music meets free-form improvisation.
As music and technology evolve at an astounding rate, so too has The Motet pioneered their unique sound while continuing to defy categorization. With roots in Jazz, Afrobeat, Funk, Salsa and Samba, The Motet keeps their audiences in a dancing frenzy by layering House and Techno rhythms into a style that is uniquely their own. This Saturday at the Fillmore Auditorium The Motet will be supported by Snarky Puppy, Orgone, and DJ Mikey Thunder as well as being joined by String Cheese Incident's Jason Hahn, making this a must see show!
Venue:  The Fillmore Auditorium – 1510 Clarkson, Denver, CO  80218 – (303) 837-0360
Doors: 6:30 pm. Music starts at 7:00 pm.
*Price: $25.00
Buy Tickets
*All prices are gathered from other sources and we are not responsible for mistakes or inconsistencies. They are intended only as guidelines. Please, always call the venue if you desire the most accurate information possible.