Editors Note: Levi Macy also had a chance to sit down with the guys in .357 String Band before the show for a conversation.  The text of that interview will run tomorrow.  In the meantime enjoy reading about their barn-burning performance!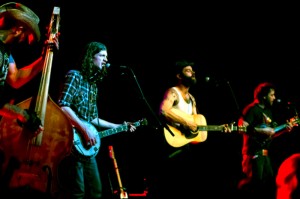 The Scene: An unmistakable pungent odor in the venue reminded me of the punk rock shows of my youth. A local, gypsy sounding band called the Two Tone Wolf Pack was on stage before .357 and it seemed like most of the crowd came to support them. An older fellow outside mentioned to me that Two Tone Wolf pack often plays at the Scum of the Earth Church*. According to their website; Scum of the Earth is a church for the "left out and right brained." I found it interesting, but not quite my style.  I only hung out in the venue for a few of their songs. They played what seemed like a lot of sing-a-longs and there was too much of a religious undertone for me.  At this point I struck up a conversation with a travelling vagabond kid around my age and he offered to buy me a tall boy Pabst at the liquor store down the block. I figured "why not, it's a beautiful night. I Might as well walk through questionable back alleys with a 2 dollar beer and a complete stranger discussing life on the road."
When I got back to the venue the Two Tone Wolf Pack was just finishing up their set and the room was probably about three quarters full. Which, for a Monday night isn't half bad. I was excited for the .357 String Band to take the stage. I was only familiar with a few of their songs prior, but after talking with them I had a slight feeling that I was going to be impressed. My only complaint is the fact that most people didn't stick around for their set. Apparently, a lot of them were only there for the Wolf Pack. It was their loss, because what happened next totally blew me away.
.357 String Band: The rugged looking, tatted up rockers took the stage about a quarter to 11. By this time the crowd had thinned and the place was maybe half full at most. That didn't discourage .357 at all. Plus, I was enjoying all the space to boogie. The only problem was that it seemed my buddies and I; aside from a few others were the only people who showed up in our dancing shoes. There sound exploded from the stage and I instantly knew these guys were going to tear it up.  They went into what they called a "Honky-Tonk" number titled "One More Round." Billy Cook traded his mandolin for a drop steel guitar and started going to town. The dobro added a real down home feel to the one of a kind Americana thrash.
I took their advice and moseyed over to the bar for another Blue Ribbon. Then found myself right in the middle of the dance floor cutting a rug all by my lonesome to a song that I could only assume by the repetitive chorus was called "Harvest Has Past," or something along those lines. If there is one thing I've learned from live music, it's that the groove is contagious. Still, keep in mind that this was by no means your every day run of the mill bluegrass crowd. I got a couple good chuckles in as I watched a few of the stone faced punk rockers slowly loosen up and almost attempt to bust a little jig.  They left little time for banter between songs, it was nonstop in your face bluegrass from start to finish. Derek advertised the next song as an "Old Timey" number, which I found amusing since it ended up being one of the faster songs of their set. I was sure a mosh pit was going to break out any minute. At times I couldn't help but think "this must be what it would sound like if Earl Scruggs developed a crack problem and began collaborating with Motorhead"
You could tell the crowd was becoming more comfortable as the dance floor started to fill.  I couldn't help but notice the style in which Rick Ness plays his upright bass. He strays from the traditional bluegrass style and throws in a psycho-billy swing with his slap technique. Halfway through the set they played a few new songs that got great responses from the crowd.
Even though the place wasn't nearly packed, the people in attendance definitely were able to make a mighty noise as each song came to an end. There was even a point when Billy once again traded the mandolin, but this time for an electric bass. While they claim that they didn't know how to play their instruments when they first started playing together, there was no evidence of this at The Larimer. There is no denying the skill and pure talent manifested on that stage. They ended the night with another barn burner by the name of "Rollin' Down The Track" and their set came to an end with a ripping banjo solo from Joe Huber.
They called it quits a shortly after midnight to a loud outburst of cheers and whistles. Even after begging for an encore there was no more music to be had. The fine folks at the Larimer Lounge were kicking us out. Overall, it was an amazing night of music. These guys deserve whatever good things come their way. I pray to whatever is holy that one day they are performing to sold-out crowds in large venues. With the rate at which they are going I don't doubt for a minute that they will find huge success in a scene that needs a breath of fresh air such as the .357 String Band. These guys seem to have some real staying power.
Energy: A+
Sound: B+
Musicianship: A-
Stage Presence: A
Set/Light Show: N/A
Overall: A
*Apparently the older fellow who said that Two Tone Wolf Pack plays at Scum Of The Earth Church was incorrect.  We got a comment that read like this: "Two Tone Wolf Pack has never played at Scum of the Earth Church. Before Two Tone Wolf Pack was called that it was Munster Boogie, and under the name of Munster Boogie has played two benefit shows for Scum of the Earth Church (only one of them actually being at Scum of the Earth's Church building)."

I rode my skateboard from school in 7th grade to my buddy Vince's house where he put on the song "Perfect Government" by NOFX and I was hooked. The next day I bought the album Duh by Lagwagon. The next year I saw Against Me! at the Starlight Theater in Fort Collins, my mom dropped me off. I've since devoted every waking hour to anything done with passion. My speakerbox bumps everything from Lil' Wayne to Pablo Casals. I was never very good at making music, but I am damn good at listening to it. I've been filling up yellow notepads with random thoughts and misspelled words for as long as I can remember. I enjoy whiskey of all sorts, Newport cigarettes and the company of my family. I've got an addiction to run-on sentences that I'll probably never cure. A solid handshake with a stranger who has become a friend over a few beers means the world to me. You'll often find me wide eyed and wandering with an ear to ear grin. I live for funky break beats and spreading the love.