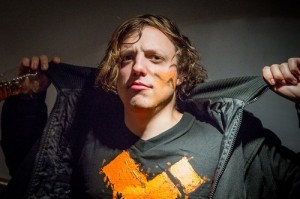 The Scene: Larimer Lounge is one of the better venues in Denver. Its event calendar is heavy in genre diversity and its bartenders are readily available—assuming you don't piss them off. Band variety, quality service, and location go a long way in the Mile High City. So the fact that LL is in the heart of the hot RiNo district and brings in the best up and coming artists makes it second-to-none. Last Wednesday night, Robert DeLong with openers Inner Oceans and Manmademadman drew in a younger crowd donning painted faces and glazed eyes. The large amount of people who attended this late weeknight show proves the surging popularity of the Electronic singer-songwriter, Robert DeLong.
Opener: ManMadeMadman. Having only caught a couple of this guy's songs, I can only say a few words on the matter: Electronic Rock is weird. The sound was disjointed and caused many to feel equally as disoriented as the vibe that was portrayed. It was a bit unsettling and just not as fun as I'd hope a Robert DeLong opener to be.
Opener: Inner Oceans. Local Indie Electronic band, Inner Oceans, performed a noisey couple of songs before DeLong took the stage. Their sound—drawn out and whiney—was difficult to get into, but I won't completely discount their efforts. We have to support our local acts through thick and thin. A sad hipster would certainly enjoy this now, but I'm waiting for a catchy tune with more bass and drums to truly grab the people's attention. Check out "Ready Your Ghost" and "I Don't Mind" for your first listen.
Robert DeLong: Having seen Robert DeLong at a festival a little less than a year ago, I was excited to see how he would compare in an intimate venue and with more touring experience. He looked, and performed, much younger at the festival, and his act at Larimer Lounge proved it. Songs like "Religious Views," "Filter Take a Picture," and "Change" felt politically driven and ethically confusing. Seeing as his last performance was more fun and carefree, this was a complicated transition for many of the fans. His voice has matured along with his message, but his posse of face painters in the crowd brings back that childlike impression. There still lies a youthful touch in their somewhere; he just needs to find the balance.
DeLong waited until the middle of his set to start playing his hits, the first one being "Basically, I." His sound was crisp and his vocals on point. Although he did less drum solos this time around, he made it up with the improved vocals. But again, the balance needs to be better defined in both message and sound. Before he played the song for which everyone was waiting, he drew out a long ambient track from modern philosopher, Alan Watts. Who doesn't love a good Alan Watts recording? Perhaps this was a little too drawn out, however, because people started filtering out from disinterest. An upbeat revamp of this "Moment with Alan Watts" wouldn't hurt. The hit single, "Global Concepts," followed and everyone moved and grooved to the sound of DeLong singing, "Or did I make you f***ing dance?" into his wompy Electronic sound that innately causes the crowd to dance like a zombie. This was by far the climax of the night, but it took awhile to get there. For the encore, DeLong performed a new rendition of the popular "Just Movement" followed by a pleasant acoustic tune which rapped the night up nicely—a pleasant ending atop a slightly confusing foundation. Sometimes this can make the whole performance a good one, but not solid. Fans should look forward to seeing Robert DeLong again so they can see an even further progression. Find that balance, DeLong!
Energy: B+
Musicianship: A-
Sound: B
Stage Presence: B+
Set/Light Show: C+
Overall: B

Lindsay was born in Georgia, raised in Florida, and moved to Colorado when she turned 18. All Lindsay asks for in life is music, hoppy beer, and the written word. The necessities of family, friends, water, and food naturally follow.