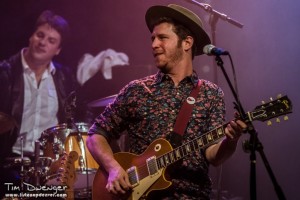 Photos by Tim Dwenger
The Scene: When we walked into The Bluebird just a few minutes after 9, the place was really starting to fill-up and it was a who's who of the Denver music scene.  There were members of The Congress, Recovery Act, Kinetix, The Whales, YAMN and more chatting with friends and enjoying a night out where they weren't the featured act on stage.  Instead, this night was all about Fox Street and their rough and tumble brand of Funky Rock & Soul.
Opener: Sophistafunk. If I'm gonna be honest here these guys just didn't really do it for me.  Despite their moniker, Sophistafunk are far more rooted in Hip-Hop than the kind of Funk I'm into and while their sound filled the room and rattled our rib cages it really wasn't a great fit with the Fox Street sound.  Sure they are accomplished musicians and have a polished sound that is sure to get many rooms around the country hopping, but it just wasn't what I had in mind when I headed out for the 1st annual Whiskey Social.  Maybe next time around someone with a little more roots oriented sound will round out the bill?
Fox Street: As the clock pushed 11 the boys in Fox Street were on stage plugging in their gear and making sure everything was set-up just right for their big headlining debut at The Bluebird.  When the lights went down, frontman Jonathan "Skippy" Huvard said some thank yous and the band tore into "Jumping Jack Flash."  Despite all the prep, there were some technical issues out of the gate which the band took in stride and it wasn't long before we were neck deep in that soulful Fox Street sound that we all came for as the band slid into "Baby Don't Fight It."
Throughout the two hour set the band showcased longstanding crowd favorites like "Holdin' On" and "Been Tryin'" alongside newer numbers like Blake Mobley's "Justified" and the Dave "Pump" Solzberg penned "Left of Right."  Both of these newer tunes show real promise for the direction the band is heading in with solid hooks and strong songwriting, but it was their cover of The Allman Brothers' "Blue Sky" and their original "Ridin' Thumb" that really allowed the band to stretch out and jam.  While "Blue Sky" featured James Dumm channeling Duane Allman on the slide and Mirco Altenbach wailing on the sax, "Ridin' Thumb" allowed the rhythm section of Solzberg and Eric Low to really let loose and show off their chops.
One of the highlights of the night was a very strong take on Bob Seger's "Night Moves" that fit the band like a glove.  From Skippy's whiskey soaked vocals to Mirco's sax, this is a song Fox Street was born to cover and it thrilled the crowd!  After the last notes of the classic faded away, Blake Mobley stepped away from the keyboards and the band's former keys player Chris Speasmaker joined his old bandmates on a few tunes before welcoming Mobley back to share the rig with him on a run of songs that concluded with a gritty version of Smokey Robinson's "Tears Of A Clown" that proved yet again that these boys have a depth to their sound that isn't often equaled.
After closing the set with "Do Me On The Floor" (one of their earliest originals as a nod to those of us who have followed the band for years) they weren't quite done and returned with the hard hitting punch of Led Zeppelin's "Black Dog" to close out the night.  While admittedly the crowd thinned out a bit as the night went on, it was a historic performance for Fox Street as they proved they could be a real draw at one of the most established venues in town.  Here's to next year's Whiskey Social!
Energy: B
Musicianship: A
Sound: A-
Stage Presence: A-
Set/Light Show: B+
Overall: B+
Music has always been a part of my life. It probably all started listening to old Grateful Dead, Peter Paul & Mary, and Simon & Garfunkel records that my parents had, but it wasn't long before they were taking me to concerts like Starship, Crosby, Stills & Nash, and Huey Lewis & The News. I got the bug to write about music after reviewing an Eric Clapton concert for a creative writing project in high school but didn't really take it up seriously until 2002. Since then I have published countless articles in The Marquee Magazine and done some work for Jambase.com, SPIN Magazine, and various other outlets. I started Listen Up Denver! as a way to share the music information that is constantly spilling out of my head with people who care. Please enjoy!