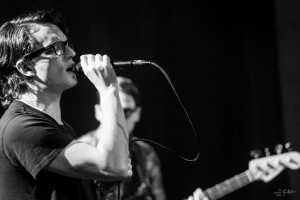 Photos by Ty Hyten
The Scene: While not packed to the gills, there was a good crowd in The Bluebird last Thursday when Seattle's Pickwick made a stop in Denver.  While trending toward hipster looking 20-somethings, all ages were represented and I've got to say that a good number of those in attendance knew most of the words to the Soul steeped Indie-Rock that was pumping from the PA.  That said, one thing was lacking in the room: dancers.  Sure, a few people were moving their feet a bit, but the music of Pickwick should have people getting down and the crowd was largely stationary as they sang along.  Too bad, maybe it would have been different on a Saturday night.
Pickwick: The band slowly took the stage, one member at a time, until frontman Galen Disston emerged to a big cheer from the crowd.  Disston's trademark Afro was combed down to the dismay of several folks I spoke with in the crowd, but his voice was 100% on point from the very first note.  This six piece is a talented group, but Disston's incredible voice is undeniably the heart and soul of the Pickwick sound and he wasn't afraid to let loose on tracks like "The Round" and "Hacienda Motel" from the group's debut LP Can't Talk Medicine.
The high energy set focused on tracks from Medicine like "Letterbox" and "The Shadow" and while most were delivered flawlessly, their stellar cover of Richard Swift's "Lady Luck" suffered from the lack a female singer.  Last time Pickwick played Denver they were joined on the tune by Jessica Dobson from Deep Sea Diver and while Disston recalled this duet with fondness as he introduced the song, his falsetto just didn't do the song justice and I found myself sadly heading for the bar during one of my favorite songs.  The other thing that was slightly disappointing about the set was the fact that the band seems to be veering a bit away from the soulful sound of their debut in favor of a more Punk flavored Indie-Rock sound as illustrated by their cover of Elvis Costello's "Pump It Up" as the lone encore.
When it was over I found myself a little bit confused; I had loved parts of the set but was left flat by others.  Had I witnessed a band in transition or a band struggling to find their way?  Can't Talk Medicine was one of my favorite albums of 2013 and it merits repeated listens, so I'll certainly give these guys another chance in the live setting and most definitely support their next record but we'll have to see how their explorations in Punk and Indie-Rock end up influencing their sound.  Stay tuned . . .
Energy: B+
Musicianship: A-
Sound: A
Stage Presence: A
Set/Light Show: C
Overall: B
Music has always been a part of my life. It probably all started listening to old Grateful Dead, Peter Paul & Mary, and Simon & Garfunkel records that my parents had, but it wasn't long before they were taking me to concerts like Starship, Crosby, Stills & Nash, and Huey Lewis & The News. I got the bug to write about music after reviewing an Eric Clapton concert for a creative writing project in high school but didn't really take it up seriously until 2002. Since then I have published countless articles in The Marquee Magazine and done some work for Jambase.com, SPIN Magazine, and various other outlets. I started Listen Up Denver! as a way to share the music information that is constantly spilling out of my head with people who care. Please enjoy!