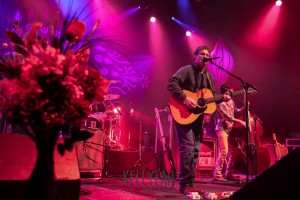 Photos by Kelly Hueseman
New Jersey FolkGrass titans Railroad Earth returned to Colorado this past weekend for a pair of shows at The Fillmore Auditorium.  The shows, the first since they dazzled a soggy Red Rocks crowd this past summer with a marathon show that will go down in Hobo lore [Editor's Note: Read our review here], were in celebration of their brand new album The Last of The Outlaws and what a party it was!
Set 1: Reuben's Train -> The Jupiter and the 119 -> Cuckoo Medley, Monkey, Grandfather Mountain, Carrying Coal To Newcastle -> River Intro Jam -> Mighty River, untitled # 12
Set 2: Happy Song, 420, Colorado, Potter's Field, Head, Daddy-O, Black Elk Speaks, One More Night on the Road, Warhead Boogie -> Chasin' a Rainbow, Everything Comes Together
Encore: Long Way To Go, My Sisters & Brothers
After growing up in Missouri listening to vintage records of The Allman Brothers, Carly Simon, and Stevie Ray Vaughan, I was hooked to the live music scene and the contagious sounds of guitar licks and soulful lyrics. After moving to Colorado, I've been contributing to Listen Up Denver! as a freelance photographer and writer. I've also started a side project, KellYeah Photography, which gives me the opportunity to pair my passion for live music with my creativity and love of being around people. Aside from photography and writing, I'm an avid hiker of Colorado 14ers and a beer enthusiast.