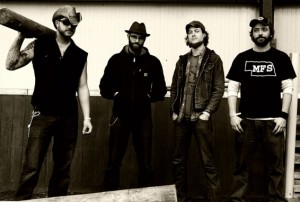 At first glance you would never guess that the four tatted up punk rockers walking up to the Larimer Lounge would be about to break out traditional string instruments and throw down some of the most unique sounding, knee slapping, high energy bluegrass music you've ever heard, but the .357 String Band did just that. Fresh off the road from their tour opener in Lincoln, Nebraska the guys of .357 were nice enough to let Listen Up Denver's Levi Macy sit down with them before they tore the stage apart with their down home roots music. He met up with the banjo player Joe Huber after a quick dollar fifty PBR at the end of happy hour and then Joe wrangled up the rest of the band and they stepped out to the back patio area of the Lounge while a younger kid with a guitar was on stage singing cover songs to the slow growing Monday night crowd.
Listen Up Denver!: Bluegrass music is huge out here in Colorado right now. Have you guys played here before?
Joe Huber (Banjo, vocals): Yeah, We played here about a year ago at the this same place to a pretty decent sized crowd.
LUD: How long have you been playing together as the .357 string band?
Derek Dunn (guitar and vocals): Well, the bands first inception was 2004-ish but we have gone through a few changes since then. The first two years we were basically just learning how to play our instruments and doing basement shows and stuff like that. Then we started touring a little around 06. Our current Line-up has been since 2009
LUD: Right on, how did you all get together?
Joe: Well, the three of us [Joe Huber, Derek Dunn, and Rick Ness] all knew each other from Milwaukee. We met Billy [Cook] when he was playing guitar with Bob Wayne and the Outlaw Carnies in Sturgis.
LUD: How did you enjoy playing with Bob Wayne?
Billy Cook (Dobro, Mandolin, Electric Guitar): It was great; all of us [.357] actually play as Bob's back-up band from time to time. When they came to me and asked me if I wanted to join their band permanently I initially thought it was a joke. I thought Bob had put them up to it just to mess with me. I couldn't be happier now, I love playing with these guys.
LUD: You guys spend a good 6 or 7 months a year on the road and have played all over the world. Where has been your favorite place thus far?
All: We have to say Milwaukee, absolutely. There is just something about playing in your home town. Definitely love playing Milwaukee.
Derek: We've had some really cool opportunities, though. I would have to say one of my favorite places, just as a random show was Serbia. We went all over Eastern Europe and that was a very unique experience. I actually got body passed against my will in Serbia. Those crazy Serbs just picked me up and tossed me down the road.
LUD: That's hilarious. Speaking of Milwaukee, how would you say being punk rockers from the Midwest influences your sound?
Derek: It doesn't really influence our sound as much as it influences how we approach writing and playing songs. Punk rock is really something we all kind of grew up with and grew out of. We all played in Punk bands and eventually slowly shifted into Folk music and simultaneously but separately started playing the instruments we play now.
Billy: I actually initially got into jam music, and then moved to Austin, TX and from there just got into everything, country; rock, just whatever I could play.
LUD: What about other influences?
Joe: Well it's kind of hard to name specific influences aside from the traditional Folk contemporaries. When we all started we didn't really know what we were doing so the sounds were all fresh. None of us really knew how to play our instruments so we just sort of played whatever felt right and that's how we found our sound.
LUD: Can you talk about your song writing process at all?
Derek: Usually one of us will write a song almost entirely and bring it to the table 90-95% done.
Rick Ness (Upright Bass): For the most part one of us will write a song and then teach it to the others.
LUD: I've heard you guys called "streetgrass." Does that come from actually playing in the streets?
Derek: Yeah, it actually happened because we were practicing in my little apartment above a bunch of lame bars in Milwaukee. It was ridiculously hot, like unbearable, so we decided to just walk down the stairs and set up on a corner. We ended up making enough for a bottle of whiskey, but we don't do it much anymore unless we have a few days off and want to make a couple extra bucks.
LUD: Your last album; Lightning from the North, was released in 2010. Are you guys working on new material now?
Derek: Yeah, we actually just have a few more things to do as far as mixing and mastering goes on our fourth album. We recorded it with Andy Gibson, the steel guitar player for Hank Williams III, down in Nashville. As far as producing goes; we had Andy telling us "hey that sounds like shit, do it again." Other than that we pretty much produce it and throw the dollars down ourselves.
LUD: Thanks for taking the time to sit down with me. Where are you guys headed after tonight?
Derek: Albuquerque, It will be our first time playing there. We are only a few states away from having played in all 50. I think Alaska and New Jersey are the last two.

I rode my skateboard from school in 7th grade to my buddy Vince's house where he put on the song "Perfect Government" by NOFX and I was hooked. The next day I bought the album Duh by Lagwagon. The next year I saw Against Me! at the Starlight Theater in Fort Collins, my mom dropped me off. I've since devoted every waking hour to anything done with passion. My speakerbox bumps everything from Lil' Wayne to Pablo Casals. I was never very good at making music, but I am damn good at listening to it. I've been filling up yellow notepads with random thoughts and misspelled words for as long as I can remember. I enjoy whiskey of all sorts, Newport cigarettes and the company of my family. I've got an addiction to run-on sentences that I'll probably never cure. A solid handshake with a stranger who has become a friend over a few beers means the world to me. You'll often find me wide eyed and wandering with an ear to ear grin. I live for funky break beats and spreading the love.