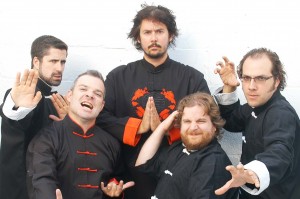 Why You Should Go: KUNG FU is quickly popularizing their unique sonic contribution as they blur the line between intense electro-fusion and blistering dance arrangements. Making fusion music "cool" again, the band draws on influences such as early Headhunters and Weather Report, and merges those ideas with a contemporary EDM informed sensibility. Imagine 70's Funk-fusion meets a modern dance party! Although the ensemble cast enjoys a seasoned pedigree that reads like a late-night summer festival all-star jam, this fledgling "nu-sion" project is growing a unique and rabid following by commanding audiences at theaters, clubs, and major national festivals, all within the past 18 months.
Dopapod is not so much a Jam band as they are a band that improvises. They are an electronic band without computers. They are a Metal band with groove and soul. They are a Funk band that's not afraid to get intricate. With no regard towards toward stylistic boundaries, the sound that emerges from the quartet both live and in the studio is as varied and diverse as the many influences that they adapt from. Their approach to complementing a distinct genre bending sound to top-notch musicianship is what keeps the quartet committed to evolving their unique brand. This progressive song writing leaves room for boundless improvisational exploration and serves as the root of why more and more music lovers are steadily growing in numbers, eagerly returning for more.
Venue: The 1up – Colfax 717 E. Colfax Avenue Denver, CO 80203
Doors: 7:00 pm. Music starts at 9:00 pm.
*Price: $10.00-$18.00
Buy Tickets
*All prices are gathered from other sources and we are not responsible for mistakes or inconsistencies. They are intended only as guidelines. Please, always call the venue if you desire the most accurate information possible.