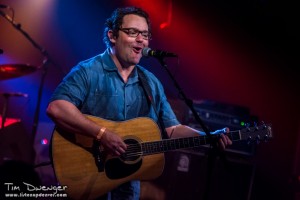 Photos by Tim Dwenger
Cervantes' celebrated 11 years as an integral part of the Denver scene last weekend and the party they threw on Saturday was nothing short of incredible.  The festivities started in the main ballroom with a powerful set from The Great Guys. A collaboration between Jonah Wisneski (The Whales) and members of The Congress and YAMN, these guys are showing promise as they start to crank out some original material.  In fact, with the exception of a radically rearranged track from the Coen Brother's new film Inside Llewyn Davis and a take on Springsteen's "Atlantic City" where they were joined by Assembly of Dust multi-instrumentalist Jason Crosby, their entire set was originals.  Be on the look-out for more from The Great Guys in 2014, you'll be happy with what you hear.
As the room started to fill up around 10, the party really began to heat up as well.  Kim Dawson's Sister's of Soul took the stage on The Other Side to deliver a heartfelt set of Soul Classics and it wasn't long before Assembly of Dust took the stage in the Ballroom.  Bouncing back and forth between rooms was almost required as the music on one side seemed to surge when the other ebbed a bit.  Near the end of a pretty stellar set from AOD that included a couple of Strangefolk classics alongside newer tunes like "Arkansas Down" and a cover of Van Morrison's "Into The Mystic" that wasn't on the setlist, moe./Floodwood guitarist Al Schnier stepped up to join the band for a version of "Speculator" that contained a verse or so of Neil Young's "Comes A Time" and a mind bending guitar duel between Schnier and Adam Terrell.
When AOD said their goodbye's The Other Side was calling and Atomga was throwing one hell of a party in celebration of the release of their brand new EP.  11 members strong, their Afrobeat influenced sound had most of the room dancing in a trance.  It was simply amazing to hear that many musicians combine forces to create such powerful and united music.  The covered Fela Kuti, jammed heavily and highlight most of the tracks from the EP including the raucous and funky "Empire."  As the clock pushed 1am Floodwood took the stage in the Ballroom and it was a thrill to see these five musicians having such a blast on stage together as they stirred up the dust and picked up a storm.  It was a great cap on an incredible night of music and one hell of a party in celebration of 11 years of music at Cervantes'.
Keep on reading for some thoughts on the night from a couple more Listen Up Denver! staffers!
Jeanette Barrow: As an Assembly of Dust nube, I was excited to see what everyone was so hyped up about. The members of Assembly of Dust are all amazing and contribute different qualities and talents to make a performance that is both entertaining and musically consummate. Their guitar player Adam Terrell seems likely a musical genius–insanely intricate riffs were liberally sprinkled throughout their set and the expressions on his face while delivering them captured the passion he has for his craft. I was also quite taken with the pianist, who seemed so super chill throughout the performance, even when he was throwing down a mind-blowing solo.
As a long-time moe. follower, Floodwood was the set to see on Saturday. I virgin to the live performances of Al Schnier and Vinnie Amico's bluegrass side-project, and a huge fan of the Americana-Roots genre, I couldn't imagine a more perfect marriage of music–and they more than delivered on my expectations. Of course Al and Vinnie killed it, there is no doubt in my mind that most of those who came to see Floodwood are indeed Moe. fans at heart, but what was truly impressive was the rest of the band–they were ALL rad and incredibly talented. Their mandolin player, with his dapper vest-suit and pigtails, is a buoyant and effervescent character–bouncing around the stage and making silly faces at his cohorts–and he is a mad-man of a picker. The stand-up bass player is appropriately sullen (for a stand-up bass player) but also very talented. And that banjo/violin player–oh, that handsome man–let's just say all the ladies' eyes were fixed front-and center on their dashing front-man, and he's not all looks, this guy is going places. Of course, the highlight of the evening was seeing Rail Road Earth join the band along with Bridgette Law to close the show–Denver has such an amazing music scene, and it is moments like this where I give thanks to call this great city my home.
Nate Todd: While I initially went to Cervantes' last Saturday night to see an up and coming national act in Assembly of Dust I left having seen several great local acts.  This is why I love Denver: So much music.  Whatever Reid Genauer touches seems to be successful.  After having national success with the band Strangefolk he has moved on to a new project in Assembly of Dust.  This group knows and understands the value in the saying "Less is More" but don't let this fool you.  Seeing the band live you notice that there is a jammy feel to the music but with a deceptive complexity to the lyrics.  This immediately keys you into a deep sense of craft with Assembly of Dust and this is no doubt why they have gained such a loyal following.
I wasn't aware that there was a dual show going on but when I headed over to The Other Side I was not disappointed.  Kim Dawson's Sisters of Soul were performing and I had been wanted to check them out since I heard about their first gig recently.  Fronted by the amazingly talented Kim Dawson who sings with The Motet among others, Sisters of Soul is Dawson's solo outing but she's not alone.  Flanked by two talented singers in Tanya Shylock and Christie Chambers, Sisters of Soul brings the girl group feel back to Rock & Roll.  It also doesn't hurt that Dawson sounds like a young Aretha Franklin (I'm sure I'm not the first to make that comparison), and that the rhythm section is Garrett Sayers and Dave Watts.
After Sisters of Soul came the always exciting Atomga.  I've watched this band come into their own over the last few years and it was great to see them having such a great time headlining a show but I had to get back to the Ballroom to catch the end of AOD and to see Al Schnier and Vinnie Amico's new bluegrass band Floodwood.  I have to hand it to the fellas from moe. and the talented musicians they have assembled, these boys could pick some Bluegrass.  Although I had to leave early I left feeling very fulfilled as I had just seen Rock, Soul, Funk, Afrobeat, and Bluegrass within the same building.  This is why I love Denver!