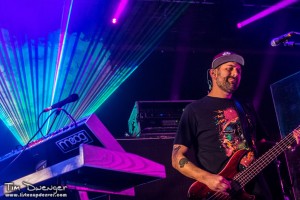 Photo by Tim Dwenger
The Scene: I am not going to lie,  after 3 very, very long nights of insane music and good times  heading up to Boulder for night four seemed like more of a chore than a night out.  That said once inside The Fox that feeling faded fast and it was time to welcome Tractorbeam to the stage.   For those not familiar, Tractorbeam is the same line up of as The Disco Biscuits with Aron Magner on keys,  Marc Brownstein on Bass, Allen Aucoin on drums, and Jon "The Barber" Gutwillig on guitar.  The difference is that for Tractorbeam the band does not sing and does instrumental versions of all their songs.   On most songs Magner will take over for the vocals and play them on his keys with Barber filling the void in that regard every once in a while.  Some like to refer to this as "Bisco Karaoke" because the crowd usually sings along to everything but that wasn't really the case on Sunday night.
Tractorbeam: Things kicked off with "Caterpillar" and from the first jam it was obvious that we were going to be in for a hell of a night.  Anyone who loves this band knows that a lot of times things start and end with how engaged Barber is.  From the first note he was bouncing around the stage in his Demarious Thomas jersey and it was crystal clear he was here to do some damage.  The band was really hitting in stride and almost every jam was on point and heading in an interesting direction.  After a stirring inverted rendition of "The Great Abyss" the band built the peak back up into "Tricycle"  finally bringing this one home after faking it out on Thursday night and teasing it multiple times over the course of the weekend.    "Tricycle" led into the dark and dirty "Orch Theme"  that seemed to just pulse on and on until feverishly peaking and dropping into the end of "Catepillar."
Set two was no different and "And The Ladies Were The Rest of The Night"  immediately got things moving.  Another flawless segue led into an unfinished version of "Rock Candy" before heading back into "Ladies."  This segment really showed what Tractorbeam shows are all about as the band of four morphed into one unit to punish the crowd.  When these guys are on you can really hear how synced up they are.  Barber or Magner will hit on a cool theme or melody and the rest of the band will almost instantly lock in on it and build a jam on that theme.  This is what really separates a great TDB or TB show from some of the more generic ones the band has produced over the last few years.  When they are on these improvised segments take things to heights that very few bands are able to hit.  On Sunday night it seemed they got to this special place during almost every song.  Despite most of the crowd being completely gassed from three consecutive nights of Bisco madness it was impossible to not dance your ass off in amazement.  What has become a Tractorbeam staple "Digital Buddah>Lunar Pusuit>Digital Buddah" continued the dancefest and the set wrapped up with "Basis For A Day:" arguably the biggest, baddest, and best song in the catalog.  While this was not the most epic "Basis," it was the perfect way to close things out.  After some fine bass slapping from Brownie, Allen dropped things into a nasty groove  the band teased "Ladies" one more time, then Barber took things home with an insane solo before ripping the "Basis" peak.  A non Tractorbeam version of "Mr. Don" closed out what was an amazing 4 nights of music, fun, and great people.
I think most Biscuits fans would agree that the band has built a bit of momentum over the last few months after a few very uninspiring years.  It seems they have gotten comfortable with their new game plan of no tours and strategically spread out mini-runs like this one.  It seems this led to a level of playing they have not touched in a long time.  Hopefully the band can build on this and keep things moving in the right direction because when they are on,  there is no other band that does it like The Disco Biscuits do.
Energy: A
Musicianship: A-
Sound: B+
Stage Presence: B
Set/Lights: A+
Overall: A

Gary is a lifelong music fan raised in Chicago. He is the "G" of J2G Live, a Denver based music production company that brings you "Dance Party Time Machine," "Revenge of the 90's" among other great events.