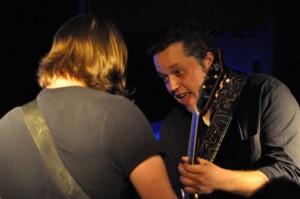 All Photos by Tim Dwenger
The Scene: As we approached The Larimer Lounge, I noticed a sign tacked the door jam that simply stated "Sold-Out – Will Call Only" and as we stood waiting for a friend to catch up, I saw more than a few disappointed faces who had read the same sign.  For a while, when Jason Isbell and his band came through Denver they played to reasonable crowds at The Bluebird so it was really no shock that they managed to fill the relatively small Larimer to capacity.  As we made our way into the club we were transported into a strange world where Southern Frat Boys and Hipsters were happily coexisting side by side.  There were Braves hats, beat up messenger bags, and even a couple big ass belt buckles walking around and the place was buzzing with anticipation as Maria Taylor and her band warmed up the crowd that was already pretty packed in around the stage.
Jason Isbell & The 400 Unit: Jason Isbell & The 400 Unit took the stage a little before 11 to a massive eruption of yells and whistles from the jam packed room.  Isbell's large frame, front and center, was an imposing presence on the stage as the band tore into the set and never looked back.  The performance cherry picked many of the gifted songwriters best tunes and reached all the way back to some of the first ones he wrote during his days with The Drive-By Truckers.
Early in the show Isbell and the band showed their depth as they dropped out of some shit-kicking barroom rock and slowed things down a bit for the melancholy shuffle of one of the best tracks off their recent record Here We Rest, "Alabama Pines."  The gritty, southern rock flavored, "Try" followed and gave us some insight into what it might have been like seeing Lynyrd Skynyrd or The Marshall Tucker Band in a rowdy bar in the 70's.
While the first part of the evening focused on Isbell's solo material, he did offer up several Truckers tunes as the night moved along.  "Goddamn Lonely Love," and the one two punch of "Decoration Day" and "Outfit" that were featured on the bands 2003 record Decoration Day, got the biggest reactions of the evening and had just about everyone in the room sining along.
In true Southern Rock tradition, throughout the set the band passed around a rapidly draining bottle of Jack Daniels and they weren't shy about taking long pulls from it.  Though hard driving, whiskey fueled music ruled the night, and it will be remembered as one that was full of Rock-N-Roll and good times, it was difficult to avoid the serious and, at times, downright sad subject matter of Isbell's songs.  This was highlighted with the poignant pairing of two tracks that focus on the reality of war and how it effects those who fight.  While the central character in "Tour of Duty" struggles to adjust to civilian life, "Dress Blues" tells the story of a 21 year old who never made it home to his wife and baby.  It got pretty heavy for a few minutes and Isbell kicked things up a notch when he passed the reigns over to his drummer Chad Gamble who sang a rowdy version of The Meters "Hey Pocky Way," and got the crowd dancing again.
The other cover that the band broke out during the set, Big Star's "When My Baby's Beside Me," was probably a little less known to many in the room and led into the upbeat, almost jazzy, "Heart On A String" that features prominently on Here We Rest.  As the song came to end Isbell put his guitar down, waved to the crowd and the band disappeared through a door behind the stage.  After a few minutes of raucous applause and whistling, the band emerged with lit cigarettes and Maria Taylor and two of her band mates in tow.  They started things out with the country swing of "Codeine" and then sunk their teeth back into some serious Rock-N-Roll as they sandwiched Jimi Hendrix's "Stone Free" in the middle of The Truckers' "Never Gonna Change."  The Hendrix tune gave both Isbell and the 400 Unit's other guitar player, Browan Lollar, a chance to really shine and they even faced on the front edge of the stage, trading licks back and forth.
The evening was a real roller-coaster ride of pretty epic proportions as Isbell and his band commanded the room and at once thrilled us with amazing, high energy rock and lulled us gently with tender, country flavored ballads that tugged at heart strings.  While Isbell is still a very young man who has a long way to go in his career, it's clear that he takes his craft very seriously and is dedicated to making the very best music he can.  Simply put, it was one hell of show.
Energy: A
Sound: B+
Musicianship: A-
Stage Presence: A-
Set/Light Show: N/A
Overall: A-
Music has always been a part of my life. It probably all started listening to old Grateful Dead, Peter Paul & Mary, and Simon & Garfunkel records that my parents had, but it wasn't long before they were taking me to concerts like Starship, Crosby, Stills & Nash, and Huey Lewis & The News. I got the bug to write about music after reviewing an Eric Clapton concert for a creative writing project in high school but didn't really take it up seriously until 2002. Since then I have published countless articles in The Marquee Magazine and done some work for Jambase.com, SPIN Magazine, and various other outlets. I started Listen Up Denver! as a way to share the music information that is constantly spilling out of my head with people who care. Please enjoy!