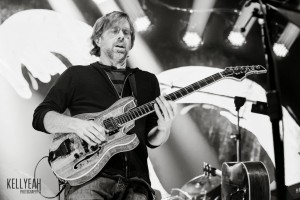 Photos by Kelly Hueseman
The Scene: As you can imagine The Ogden was packed to the rafters last week when Phish frontman Trey Anastasio and his Funk fueled band opened their Winter Tour in Denver with a pair of shows.  The line when doors opened stretched down Colfax and across Ogden and, within minutes of getting through the doors, many of the prime spots were staked out by veteran fans looking for the very best vantage point.
Trey Anastasio Band: If you've never seen a Trey Anastasio Band (TAB) concert, one thing needs to be cleared up right away.  This is not a Phish show.  This is not a Phish cover band led by Trey.  This is a powerfully funky band of extremely talented musicians who create original music together.  As Anastasio was very careful to point out during the band introductions late in the show, songs like "Gotta Jibboo," "First Tube," and "Sand" were all originally TAB songs but he also acknowledged that he has a lot of fun with them in Phish before saying "they're all just songs."
On Tuesday night the band started out fairly slow, opting to open the show with a pair tunes from the band's most recent release, 2012's Traveller, and a brand new original before dropping into the crowd favorite "Gotta Jibboo."  When the opening notes of "Jibboo" pulsed through the room the crowd seemed to wake up and the dancing began.  Sadly though, it didn't last too long.  With the exception of a few bright and energetic tunes like the Brian Setzer inspired swing of "Magilla" and the Latin flavored "Curlew's Call," much of the first set tended towards ballads rather than the funky horn driven rockers that TAB shows are known for.  That said, without a doubt the high point in the set was a blistering version of "Burlap Sack and Pumps" that featured one of the single most awe inspiring Baritone Sax solos I've ever witnessed.  My eyes were glued to the stage and my jaw hung open as James Casey showed complete mastery over the massive horn.
After a relatively brief set break, the second set kicked off in high gear and really didn't let up much for an hour and a half.   "Money Love and Change" and "Cayman Review;" two heavy hitters from Anastasio's self-titled 2002 release, got our feet moving and, after a pair of well placed Traveler songs, the band delighted longtime fans with the sublime pairing of "Drifting" and "Sand."  As the lights swirled beautifully through the room Anastasio's fingers danced on the fret board and the Jennifer Hartswick led horn section cranked the energy up a few notches.  What came next was especially surprising as the band debuted a cover of Ana Tijoux's "1977" complete with spitfire Spanish rapping from TAB veteran Natalie Cressman.  While it was a WTF moment for some, it seemed to work and Anastasio followed it up with the tender "Architect" before blowing the roof off the place with the Charlie Daniel's Band classic "Devil Went Down To Georgia" that saw more than a few beers get spilled as feet got busy on the dance floor.
The set ended with a power run from "Mr. Completely" into "Plasma" that again satisfied my craving for funky horn driven rockers.  It was a stellar second set and while I would have been happy heading out into the night, TAB came back and delivered a three song encore that concluded with a raging "First Tube."  As we made our way out onto Colfax, the consensus seemed to be that while the first set was a bit flat and uninspired as a whole, the second set more than made up it . . . but damn, give me that "Burlap Sack and Pumps" anytime!!!
Trey Anastasio Band – January 28th, 2014 – Ogden Theatre, Denver CO
Set 1: Traveler, Valentine, Silver Smoke#, Gotta Jibboo, Frost, Magilla, Curlew's Call, Dark & Down, Gone, Burlap Sack And Pumps, Pulsing Days#, Pigtail, Tuesday
Set 2: Money Love and Change, Cayman Review, Corona, Greyhound Rising, Drifting, Sand, 1977*, Architect, Devil Went Down To Georgia, Mr. Completely > Plasma
Encore: Shine, Heavy Things, @First Tube
# New TAB originals
* New cover originally by Ana Tijoux
@ With band introductions

Energy: A
Musicianship: A+
Sound: A
Stage Presence: A
Set/Lights: A
Overall: A
Music has always been a part of my life. It probably all started listening to old Grateful Dead, Peter Paul & Mary, and Simon & Garfunkel records that my parents had, but it wasn't long before they were taking me to concerts like Starship, Crosby, Stills & Nash, and Huey Lewis & The News. I got the bug to write about music after reviewing an Eric Clapton concert for a creative writing project in high school but didn't really take it up seriously until 2002. Since then I have published countless articles in The Marquee Magazine and done some work for Jambase.com, SPIN Magazine, and various other outlets. I started Listen Up Denver! as a way to share the music information that is constantly spilling out of my head with people who care. Please enjoy!