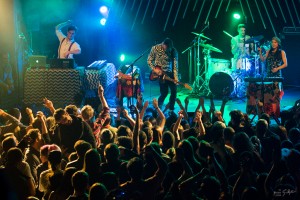 Photos by Ty Hyten
The Scene: It was the beginning of the week but the sold-out Bluebird Theater had all makings of a Friday night last Tuesday when New York's St. Lucia took the stage. The audience was lively, talkative, and dancy at times for the rising Synth-Pop band.
St. Lucia: St. Lucia serves as a moniker for Brooklyn's Jean-Philip Grobler but on the road the band materializes as a tight five-piece which includes Grobler's wife, Patricia Beranek, on keys and vocals. Their music has a highly polished 80's sheen, almost to the point of sounding cheesy, complete with staccato synth chords and saxophone flourishes.
I quickly got over my pretensions and got soaked into the feel good vibe of their music. The whole night had a very tropical vacation feel. It was undeniably fun and being surrounded by people who were dancing made the music even more affecting.
The high-water mark came early in with "Closer Than This," a clear crowd favorite. The undeniably Peter Gabriel-esque "Wait For Love," complete with a sparkling rainbow of LED's and a fan blowing Grobler's hair, was unequivocally corny, but that's part of the appeal to the fans it seemed. The set also included an exuberant cover of Chaka Khan's "Ain't Nobody."
The encore had the music, lights, and feel of a Miami disco club with "September" and a ended with the high energy new wave inflected "When The Night."
Attending as a bit of a skeptic it didn't take long for me to understand why the band has become so popular. The 80's pop aesthetic holds a place in the heart of a lot of music listeners from that era and is different enough from what's on the radio to capture the hearts of the millennials for the first time. These guys know what they're doing and they're doing it well.
Energy: A
Musicianship: B+
Sound: B+
Stage Presence: A-
Set/Light Show: B+
Overall: B+