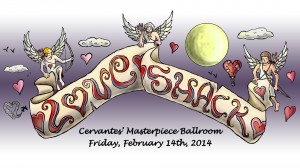 Why You Should Go: J2G Live & Listen Up Denver! present The Love Shack at  From the people who brought you The Dance Party Time Machine comes The Love Shack.  If you want to feel the love join us at Cervantes' Masterpiece Ballroom this Friday for a Valentine's Day dance party featuring over 40 of the finest musicians Colorado has to offer. Along with recently added musicians David Murphy (formerly of STS9) and members of The Motet including Dave Watts, Garrett Sayers, and Ryan Jalbert Love Shack will feature members of The Disco Biscuits, Euforquestra, YAMN, Rose Hill Drive, Fox Street, Kinetix, The Congress, Octopus Nebula, Tiger Party, Ableminds, Jonah Wisneski, Filthy Children, I am SuCH, Analog Son, Rally Round The Family, and more. Whether you are in love, lookin' for love or just lost that lovin' feeling, The Love Shack will be the place to be this Valentine's Day 2014. Come get down and see some of Colorado's best come together to bust out the songs that make you feel the love! Check out the highlight video below from The Dance Party Time Machine, which featured many of the same musicians who will participate in The Love Shack.
Venue:  Cervantes' Ballroom, 2635 Welton Street, Denver, CO 80205 – 303/297-1772
Doors: 8:00 pm. Music Starts at 9:00 pm.
*Price: $20.00 Adv. $25.00 DoS.
Buy Tickets
*All prices are gathered from other sources and we are not responsible for mistakes or inconsistencies. They are intended only as guidelines. Please, always call the venue if you desire the most accurate information possible.