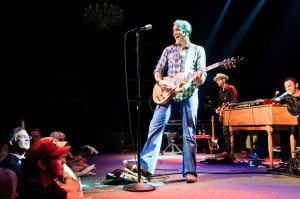 Why You Should Go: Over the course of six albums and a decade of touring, JJ Grey's grimy blend of Front Porch Soul and down-home storytelling has taken him around the world and back again. Beating the streets on nearly every continent, he and his band Mofro have sewn a continuous thread of laying-it-on-the-line shows that move folks to dance and at times to tears.
Here's what Keller himself had to say about his new project More Than A Little: "In my ever swirling musical world there are few genre I leave untouched. That's why I am elated to present my new project, 'More Than A Little.' It's more than a little soulful, more that a little funky, and it's making more than a little happy."
Nicki Bluhm And The Gramblers burst onto the scene in 2012 and now they are coming to Fillmore Auditorium on Friday! Get your tickets now for some rocking country soul music with a hint of vintage appeal. Nicki Bluhm is often compared to huge names in the music industry, including Etta James, and has earned herself an incredibly impressive reputation. As the front-woman of this amazing San Francisco-based band, she combines Folk Rock with breathtaking sSoul and show-stopping Americana. Don't miss out! Get your tickets before they all go!
Venue:  The Fillmore Auditorium – 1510 Clarkson, Denver, CO  80218 – (303) 837-0360
Doors: 6:00 pm.
*Price: $39.50
Buy Tickets
*All prices are gathered from other sources and we are not responsible for mistakes or inconsistencies. They are intended only as guidelines. Please, always call the venue if you desire the most accurate information possible.