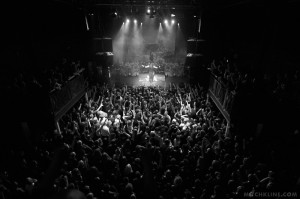 Photos by Mitch Kline
The Scene: Sweden, Norway, and Athens, Ohio descended on Summit Music Hall last Tuesday for a stop on Amon Amarth's seemingly endless Deceiver of the Gods Tour. As I walked up to the Summit at door time, the line stretched around the block. This wasn't a "roll in after the opener" type of show. All three of these bands have a core following, and they were out in force at this show. It seemed like 80% of the room was adorned in a shirt from one of these bands, and all three bands were met with equal excitement as fans threw horns in the air, screamed lyrics, and broke out in mosh pits. At one point during Amon Amarth's set, Johan Hegg mentioned the intensity of the pit. That, to me, is a pretty solid indicator of the energy in the room.
Openers: Skeletonwitch & Enslaved. As the line of excited metal fans stretched around the block, Skeletonwitch opened up the night with a blistering set of thrash metal. While their lyrics are a bit dark for my taste, they had me with thirty minutes of relentlessly punishing riffs. Legendary Norwegian black metal band Enslaved continued to build the energy as the room quickly filled. Their set was a bit more subdued, but they managed to work the growing crowd into a frenzy on more than one occasion during their short set.
Amon Amarth: I've been listening to Amon Amarth for the last year or so, with a stretch of a few weeks of my personal favorite album, Sartur Rising, in non-stop rotation, but this was my first chance to see these guys live. If you're even remotely interested in Norse mythology or Viking lore, Amon Amarth is your soundtrack, and their ninety minute set was a non-stop barrage of epic tales of Godly battles, mythological creatures, death, and honor. Not surprisingly, their set leaned heavily on Deceiver of the Gods, their latest studio effort.
Opening with the one-two punch of "Father of the Wolf" and "Deceiver of the Gods," Johan Hegg and crew wasted no time getting down to the task at hand. With Viking drinking horn hanging at his side, Hegg's imposing stage presence demanded attention as he growled and screamed through old and new favorites. Highlights for me included "Free Will Sacrifice" off of the excellent 2008 release Twilight of the Thundergods, "The Last Stand of Frej," and "Destroyer of the Universe" both from Sartur Rising, and the fitting encore "The Pursuit of Vikings." With at least nine albums under their belts, and a seemingly endless source of subject matter, Amon Amarth shows no signs of slowing down, and I'll make every effort to catch them live whenever they're in town.
Energy: A+
Musicianship: A
Sound: B+
Stage Presence: A+
Set/Light Show: B-
Overall: A-