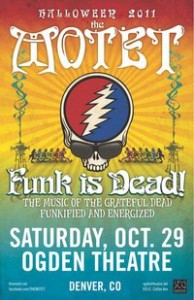 The Motet is extremely excited to announce that for Halloween 2011 they will be paying tribute to the music of one of the most influential rock bands of the last 40 years: THE GRATEFUL DEAD! Yes, they know that some of you are thinking: How does the Grateful Dead's sound fit into the energy and vibe of a Motet Halloween show??  With that in mind they are taking the challenge of reworking those epic and timeless songs with the energetic afro-funk grooves that everyone has come to expect from The Motet…hence the title "Funk is Dead!."
In addition to the slamming rhythm section of Dave Watts (drums), Garrett Sayers (bass), Joey Porter (keys), Ryan Jalbert (guitart), Scott Messersmith (percussion), and Dan Schwindt (guitar), The Motet will be bringing in 3 great vocalists: Jans Ingber, Paul Creighton, and Kim Dawson. They will also be showcasing a trio of horns: Gabe Mervine (trumpet), Matt Pitts (tenor), and Pete Wall (bari).
They are certain that these are going to go down in Motet Halloween history as some of the most exciting and creative shows we have ever put together! Make sure to get your tickets soon so you don't find yourself at the concert with your finger in the air looking for a funky miracle!
The Aggie Theatre – Fort Collins
Friday, October 28, 2011 at 10:00pm
The Ogden Theatre – Denver
Saturday, October 29, 2011 at 10:00pm
The Boulder Theater – Boulder
Monday, October 31, 2011 at 10:00pm
Music has always been a part of my life. It probably all started listening to old Grateful Dead, Peter Paul & Mary, and Simon & Garfunkel records that my parents had, but it wasn't long before they were taking me to concerts like Starship, Crosby, Stills & Nash, and Huey Lewis & The News. I got the bug to write about music after reviewing an Eric Clapton concert for a creative writing project in high school but didn't really take it up seriously until 2002. Since then I have published countless articles in The Marquee Magazine and done some work for Jambase.com, SPIN Magazine, and various other outlets. I started Listen Up Denver! as a way to share the music information that is constantly spilling out of my head with people who care. Please enjoy!