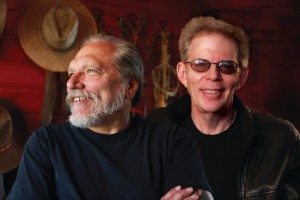 When Listen Up Denver! caught up with Jack Casady—founding member and bass player for Hot Tuna—he had to pull off the I-80 corridor to chat with us as he was on his way to a gig in Arcata, California.  The road is a fitting metaphor for Jack's life along with his long time friend, musical collaborator, and other founding member of Hot Tuna Jorma Kaukonen as they have spent the last fifty years touring extensively; first with the legendary and groundbreaking Jefferson Airplane before the duo went on to form the equally legendary and groundbreaking Hot Tuna in the late sixties.  The road has certainly been long and busy for Jack and Jorma but just as Jack was gracious enough to make a pit stop to talk with us, so too has Hot Tuna taken the time to pass on their knowledge and love of music through the outlet of Fur Peace Ranch, a musical school tucked into the hills of southeastern Ohio conceived by Jorma and his wife Vanessa where Jack is a teacher as well.  The same long road has also led Hot Tuna to their first studio album in nearly twenty years.  Steady As She Goes was recorded at the late great Levon Helm's recording studio with the help of producer and musician Larry Campbell (a legend in his own right).  This is by no means the end of Jack and Jorma's road as Hot Tuna is in the midst of an extensive tour of the US and Japan including a stop here in Denver at The Oriental Theater, but Listen Up Denver! was curious to find out where the road began.
In the late fifties two kids from the Washington D.C. area began one of the longest and most fruitful relationships in the musical world.  "In all of the years Jorma and I have known each other we've only not played steadily for about three years.  We started playing together in 1958 in high school," says Casady.  The two high school chums shared a mutual fondness for old Blues especially Rev. Gary Davis otherwise known as Blind Gary Davis, whose finger-picking style heavily influenced Kaukonen's own playing.  Casady's extensive knowledge of old Blues and Jazz came from an unlikely source at a time when parents were wary of their children getting mixed up in the rough and tumble world of popular music.  "It was something my father gave me.  He was a dentist in Washington D.C., but his hobby was electronics and at the same time he was an audiophile.  That's how I listened to a lot of the small combo Jazz stuff from the late twenties and thirties," Casady remembers.  The elder Casady's passion for electronics would carry on to his son and would serve Jack well in his endeavor to find the perfect bass tone…but more on that later.  In the late fifties Jack had yet to pick up the bass and was focused on lead guitar with Kaukonen actually backing him up on rhythm guitar.  But ahead of them were the turbulent 1960s where anything could happen.
Three years Casady's senior, Kaukonen was soon off to college first in Ohio and then California, and so Jack was left to go it alone.  In Jorma's absence Jack would form another lifelong relationship with the bass guitar.  "I started playing bass in 1960.  I was sixteen years old.  It came about like so many things: through an opportunity.  An old friend and contemporary of mine Danny Gatton, who was a world famous guitar player out of Washington D.C., God bless him he is dearly departed now, he was the wonder kid.  We all traded around in bands with each other playing in the club circuit in Washington D.C.  This was the early sixties and I started working in the club circuit when I was about fifteen years old.  Danny had a two-week club gig and his bass player got very sick.  So, we knew each other and we traded off in each other's bands all the time when one guy got sick or got another gig and someone needed a fill in.  These were the days when you played a lot of Country music, a lot of R & B, a lot of Ray Charles, a lot of Rockabilly, things that were going on in the late fifties.  So first of all I told Danny I didn't know anything about the bass and we all laughed and he said, 'Hey, its got four strings how hard can it be?'" And so Casady went on to do the two-week gig with a borrowed Fender Precision bass, which he liked but found a bit too big for his hands.  Luckily that same year Fender came out with the Jazz bass, which was slightly smaller and had two pick-ups giving the instrument a wider range in tone, which suited Jack just fine.  "I wish I had that bass today," Casady mused, "But it got stolen at a gig later on."  Thus began Casady's lifelong search for the perfect bass, but in the meantime Jack's buddy Jorma had been busy out in California hanging out with the likes of Paul Kantner and Marty Balin who were trying to form a Folk-Rock band.  Jorma joined the band but was not crazy about the bass player and told Casady as much in a coast to coast phone conversation without even knowing that Casady had picked up the instrument, much to Jorma's surprise and elation.  Equally astonished was Jack that Jorma had joined a Rock band, "What, you? the purist?"  Casady asked the Folk minded Kaukonen.  At Jorma's request, Jack left D.C. for San Francisco to join the band that would become Jefferson Airplane.
While Jefferson Airplane would propel Jack and Jorma to stardom and eventually land them in the Rock & Roll Hall of Fame, the band's main strength would ironically become the catalyst for the formation of Hot Tuna.  With a musically diverse cast of characters who brought with them a myriad of influences and styles, Jefferson Airplane was never short of material.  "Everybody wrote songs," remembers Casady, "and Jorma and I had a lot of material that wouldn't fit into the format of Jefferson Airplane.  The strength was that we had all those songs in our catalog and interesting viewpoints on how to write songs.  The downside was you could only do so many songs in a night.  So we started to play on our own where we could concentrate on the direction we wanted to go in and that's how Hot Tuna was formed."  The prototype Hot Tuna would often play after playing a set with Airplane and Jack and Jorma's talent was immediately apparent to the recording industry, they had a record and a record deal before they had even named the band.  As Hot Tuna sought to branch out from Jefferson Airplane, one aspect that differentiated them was their loud, electronic sound.  Jorma the purist had begun to experiment with processors developed by Ken Kesey for the Acid Tests when he joined Airplane and Jack used the knowledge imparted by his father to develop better fidelity and range of tone for the Guild Starfire basses he had begun to play.  Thus the unique, electric Hot Tuna sound was born and has been captivating audiences to this day.  Despite their success  in the nineties Hot Tuna decided to get back to their acoustic roots as well as give back to the musical community that had given so much to them.
While Hot Tuna still rocks out electrically at festivals and larger venues with the great Scoota Warner on drums, Acoustic Tuna is "the backbone of what we do," says Casady. "Acoustic Tuna is where our musicality has its widest talent."  This talent no doubt comes from Jack and Jorma's long time dedication to acoustic music but also to the addition of multi-instrumentalist Barry Mitterhoff into the mix.  Mitterhoff is a mandolin virtuoso but is also proficient on banjo and tenor guitar in a range of genres from Bluegrass to Celtic to Folk.  Coinciding with the Acoustic Tuna format was the opening of Fur Peace Ranch, a guitar camp with an emphasis on acoustic guitar opened by Jorma and his wife Vanessa in 1998.  Fur Peace showcases a plethora of multitalented teachers with Kaukonen as the linchpin   "The teaching facility has become a large entity in our lives and Jorma's a great teacher," gushes Casady who also teaches bass at Fur Peace.  Casady makes it clear that Fur Peace is a place of learning and not a place to star watch.  "It's not a Rock & Roll fantasy camp.  It's a learning center."  In this way Jorma and Jack are passing on the knowledge they have gained in their long and storied careers to a new generation of musicians, a rarity in the Rock & Roll world.  Don't think that with acoustic music and teaching that Hot Tuna has gotten soft or lost their ability to rock.  Their latest album Steady As She Goes coupled with monster tours and numerous accolades should dispel any such notions.
Steady As She Goes may be the band's first studio effort in twenty years but with constant touring, teaching, and solo endeavors it wasn't always easy to get into the studio.  "Different things take forefront in your life," admits Casady, "but we decided it was time.  We had Larry Campbell as a producer who had done a project with Jorma on a solo album. Jorma talked to me about it and he said, 'I got a guy who plays so many instruments but it's the way he produces; he just sort of inserts himself into the band without changing the band's sound.'  And that's exactly what he did."   The record masterfully blends the acoustic and electric sides of Hot Tuna with Scoota Warner on drums, Barry Mitterhoff on mandolin, and Campbell making contributions here and there. The album showcases new material by Jorma and Jack along with some reworking of older songs from the Folk and Blues catalogs including a cover of their idol Rev. Gary Davis.  As Jack said, "it was time," and this is evident in how natural and unforced the album sounds.  Recording in a legendary location didn't hurt either, "We recorded in our old pal, the late Levon Helm's, studio up in Woodstock.  It's a really wonderful, old wooden barn and we did it very naturally.  We set up in a circle and played the songs and we were tickled pink with the results."  As always, with a new album comes extensive touring and 2014 is gearing up to be a busy and productive year for Hot Tuna.
Along with an exhaustive US tour that began in Maine at the dawn of the New Year and will culminate with an acoustic show at Fur Peace and an electric set at Wanee Music Festival in Florida, the band will skip over the Pacific for an eight date run in Japan.  The band then comes back to the states for more US dates that will take them deep into the summer.  In the meantime, the accolades keep rolling in for Jack and Jorma.  Of course, the two were inducted into the Rock & Roll Hall of Fame for their work with Jefferson Airplane in 1996.  Jorma received a Grammy nomination for his solo album Blue Country Heart in 2003, and most recently Jack was given a Lifetime Achievement Award by his peers from Bass Player Magazine, which he dedicated to his dearly departed wife Diana.  But what about that perfect bass sound?  Although it's always a work in progress for Jack he finally got to develop his own sound with a signature bass model by Epiphone.  "It's an affordable instrument that you can get out there that's handmade.  The quality is outstanding and I play it and I love it."  This dedication to their fans, whether it be Fur Peace Ranch or developing quality instruments for folks to play, is probably the most endearing aspect of Hot Tuna and they are still creating amazing music without any signs of stopping.  There are certainly shimmering heat lines emanating from Hot Tuna's ever unfurling road because they are hotter than ever.
Hot Tuna plays The Oriental Theater Sunday February 23rd.
Buy Tickets
Nate Todd was born on the central plains of Nebraska, but grew up on the high plains of the Texas panhandle. With not much to do in either place, music was his constant companion. His parents dubbed the first two albums he ever owned onto a tape for him. Side A was Bert and Ernie's Sing Along. Side B was Sgt. Peppers. His lifelong love affair with music started early as he practically grew up in a Rock & Roll band, with his father and uncle often taking him out on the road or into the studio with them. Nate began performing live at sixteen and hasn't looked back, having played in numerous bands from L.A. to Austin. At the age of twenty he was bitten by the writing bug, and upon moving to Denver decided to pursue a degree from Metropolitan State University where he recently graduated with a B.A. in English and a minor in Cinema Studies.