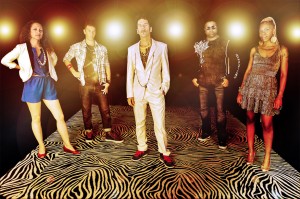 Why You Should Go: To describe how the Dirty Dozen Brass Band pushed past their 35th Anniversary, trumpet player Gregory Davis employs a tried-and true New Orleans-centric analogy: "It ends up being like a pot of gumbo – you drop in a little okra, drop in a little shrimp, you drop in some crabs. Before you know it, you've mixed in all these different ingredients and you've got a beautiful soup. That was our approach to music early on and it still is today." An appetite for musicological adventure, a commitment to honor tradition while not being constrained by it, and a healthy sense of humor have brought the world-traveling Dirty Dozen Brass Band to this remarkable juncture in an already storied career.
On this run through Denver DDBB will be joined by The Pimps of Joytime who will headline on Thursday night and play first on Friday.  If you have yet to encounter the Brooklyn-based band prepare to take a funky ride! The PJT's live events and recordings have captivated fans all across the country, as they have begun writing their own success story, show-by-show, and track-by-track.  Each one of these amazing bands on there own would be worthy of a look see but the two of them together is a must see!
Venue:  The Bluebird Theatre, 3317 E. Colfax Ave, Denver, CO 80206 – 303/377-1666
Doors: 8:00 pm. Show starts at 9:00 pm.
*Price: $18.00 Adv. $23.00 DoS. Buy Tickets
*All prices are gathered from other sources and we are not responsible for mistakes or inconsistencies. They are intended only as guidelines. Please, always call the venue if you desire the most accurate information possible.