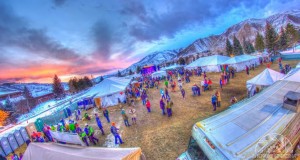 Photos by John-Ryan Lockman
Colorado winter festivals are unrivaled. Bluegrass music emits a radiant purity that can't be matched. Combine the two and add in heated tents filled with hoppy microbrews and you have the wonderful WinterWonderGrass festival.
Last year's WinterWonderGrass was held at a small, but inviting brewery in Edwards, CO. The immensely positive rating from the attendees led creator Scott Stoughton to move the festival to Snowball's old stomping ground at Nottingham Park in Avon, CO. The new fairgrounds for the 2014 WonderGrass gave enough space for the mountain dwellers to move and groove to the enchanting sound of the strings, while providing even larger beer tents—another draw of the festival. The beer hall expanded from their sponsors, Crazy Mountain Brewing Company and Great Divide Brewing Company, to other major Colorado crafters like Left Hand Brewing Company, Oskar Blues Brewery, and Odell Brewing Company—to name a few.
Notable acts of the weekend included Nicki Bluhm and the Gramblers, Head for the Hills, Fruition, Leftover Salmon, Elephant Revival, The Infamous Stringdusters, and two-time headliner, Greensky Bluegrass ft. Bluegrass legend and Grammy winner, Sam Bush. On the opening night of the festival, lead singer Paul Hoffman of Greensky celebrated their return by prematurely calling Sam Bush to the stage. Hoffman prefaced his appearance, "This is a festival right? The cool thing about festivals is that you get to play on stage with your friends." That line set the tone for the rest of the weekend. From then on, Rocky Mountain comradery shone as bright as the stars themselves. Members of Fruition, Whitewater Ramble, Infamous Stringdusters, among others, joined almost every act that graced the snow-donned stage.
Highlights of the festival included:
Greensky Bluegrass killer super jam with Sam Bush and Drew Emmitt on night one
Vince Herman thinking he was in Telluride (still adorable)
Scott Law and Tyler Grant make melodic majesty together on a sunny Saturday
Nicki Bluhm lighting up the stage with her Gramblers on night two
Greensky Bluegrass & Sam Bush continue their sprightly jam through night two
Head for the Hills bring folksy splendor to a peaceful Sunday afternoon
Elephant Revival's hauntingly beautiful vocals brings in the festival's final sunset
The Infamous Stringdusters close out the weekend in a heavy, breathtaking quintet string-off
WinterWonderGrass truly encapsulates the roots of mountain living: three days of skiing at sunrise followed by some well-deserved ales with good friends. Then add in truly talented musicians playing under a blanket of stars tucked between snow-capped ridges. Well, that's what livin' is.
Energy: A+
Musicianship: A+
Sound: A
Stage Presence: A+
Set/Light Show: A
Overall: A+
Lindsay was born in Georgia, raised in Florida, and moved to Colorado when she turned 18. All Lindsay asks for in life is music, hoppy beer, and the written word. The necessities of family, friends, water, and food naturally follow.