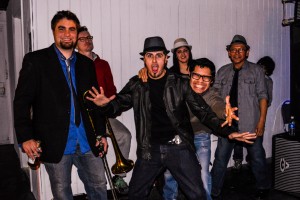 The Scene: Before I say anything on Roka Hueka's fantastic debut at La Boom, I should disclose that I don't speak Spanish and I had to find La Boom with Google Maps. I also showed up dutifully at 9pm having convinced a friend to join me, only to find that the band wasn't there. I texted out my arrival, and received, "Sweet. Went home to eat. Be back there in 40."
It didn't seem like anyone else was in a hurry either. A few small groups hung out by the high tables bordering the empty two-tone dance floor, literally drinking bucketfuls of Corona by the bottle. Dressed in various leather jackets, skinny jeans and sneakers, this scene was a throwback to some kind of Punk or Ska scene I had only heard about second- or third-hand. Really, the only practical Ska experience I have is seeing a friend-of-a-friend's Ska band play a house party in high school–The Skatraceptives–a name that seems more politically relevant today than it did over a decade ago.
Roka Hueka: I was excited to hear Roka Hueka, or "Hollow Rock." While the Third-Wave of Ska in the U.S. petered out of the mainstream in the late 90s to early 2000s, the genre has continued to thrive in Mexico and other Latin American countries, making a notable resurgence in Los Angeles.  I was looking forward to Denver's response to this. Finally, around the tender hour of 1am, after two opening bands, a game of pool and two intermissions for couples to dance to Cumbia and Salsa on local radio station 1150-AM's live broadcast, the members of Roka Hueka materialized on stage to a well populated and expectant dance floor.
From the time the front man Andres Gonzalez arrived on stage, he started a running conversation with the crowd. Dressed smartly in a fedora, fitted black jacket, rolled up jeans and classic black Pumas, Gonzalez expertly weaved the extended trumpet solo of "Roka Hueka-Intro" into his introductory remarks on the night to come. Although I was one of the few audience members that had no real clue, the message seemed pretty clear. Upon cue, as soon as the trombone and trumpet chimed in on the bouncy "Te He Prometido" the crowd started jumping up and down, and a skanking circle soon formed. Gonzalez also followed suit, skanking and appropriately yelling the Ska standby "pickitup!" during a quiet but steady guitar solo. During "Si Me Vas Aband" the trumpet and trombone had dueling solos. Roka has a more melodic, less aggressive sound than some of their L.A. counterparts, aiming to bring people together for the joy of dancing with friends. Shout-outs were given to home states of Chihuahua, Mexico, girlfriends in attendance and even Nigeria and Kenya. Gonzalez also made sure to give plenty of praise to his bandmates, although he had to give the trumpet player, a blonde fresh-faced music major at CU, a little brotherly rubbing, "Oh you don't know Spanish??? Well fuck it!"
This sentiment of inclusion continued on through the sweet ballad "Tengo Tu Love" and by "Que No Quede – Huena" the crowd was already parroting a response chorus back to Roka Hueka. Near the end of the set, drummer Blake Pendergrass brought a faster pace with his razor steel look of concentration on "La Carencia" and then a joyous Punk element to the last song "Pachuco" morphing the skanking into a temperate mosh pit. Still, no aggro attitudes were allowed, as Gonzalez dispelled a brewing fight by encouraging those involved to just dance and enjoy the music. The dancing continued, but Roka had underestimated the audience's enthusiasm for them. The eight-song repertoire had been exhausted, and the band deliberated on what to do while the crowd chanted "Roka! Roka! Roka!" Recognizing that they needed to answer this call somehow, a Ska rendition of "La Bamba" was thrown down to appease. However, the final message back was clear: Roka's gonna need to learn more songs.
Energy: A+
Musicianship: B
Sound: B
Stage Presence: A+
Set/Light Show: C-
Overall: B+

Patty is a Washington State native that was lured to Colorado by the sun and the mountains. When not listening to music, there is a pretty good chance she can be found eating ice cream.