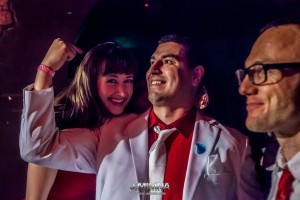 Photos by Jim Mimna
The Scene: Valentine's Day may be a "Hallmark Holiday" but music was in the air at Cervantes' Ballroom this year and whether they were in love or looking for love, out of love or in lust, the nearly capacity crowd came to party at "The Love Shack," the newest themed superjam dance party from the guys over at J2G Live.  This one's a keeper folks.  With music fans of all ages packed into hear the likes of David Murphy (formerly of STS9), Allen Aucoin (Disco Biscuits), Dave Watts, Ryan Jalbert and Garrett Sayers (all of The Motet), and countless other local music celebrities as they proved this wasn't just another jam session (stay tuned for the videos if you are skeptical).
The Love Shack:  After the couples had time to finish up their Valentine's Day dinners and the singles put down a couple of cans of liquid courage, the show got rolling with a raging, Blues Brothers inspired take on "Gimme Some Lovin'" that featured Jonathan "Skippy" Huvard of Fox Street on lead vocals.  The crowd was dancing from the get-go and with classics like The Band's version of Marvin Gaye's "Don't Do It," Stevie Wonder's "Signed Sealed Delivered," and Percy Sledge's "When A Man Loves A Woman" (the latter two featuring stellar vocals from Jonathan Meadows of The Congress) things stayed sultry for the duration of the 90-plus minute first set.
While the whole show revolved around the theme of love, don't let the classic R&B fool you, The Love Shack didn't shy away from some 80's favorite's like Pat Benetar's "Love Is A Battlefield," Paula Abdul's "Straight Up," and the Hall & Oates smash "You Make Me Dreams Come True."  No matter the song, as the night went on the whole room was dancing, drinking and singing along with nearly every lyric as forty or so musicians traded places on the stage seamlessly and turned this Valentine's Day into a music lovers dream.
While it wasn't much of a surprise, the second set kicked off with The B52s' "Love Shack" and featured one of the heaviest hitting line-ups of the evening as David Murphy held down the low end, Aucoin and Watts manned the kits while Jalbert and Jordan Linit (Kinetix) shredded the guitars and Adam Lufkin (Kinetix) traded vocals with Aubrie Hamrick and Jenny Anderson (Filthy Children).  It was a hit parade from there as "Walking On Broken Glass," "I Want You Back" and one of my all time favorites: Beck's "Debra" took us all well past 1am.  It may have been late but it was far from over and it wasn't long before everyone in the room would "Feel Like Making Love."
There were looks of astonishment on faces around the room when the reggae vibe of UB40's take on "Red Red Wine" filled the air but it was the set closing run from "Don't You Want Me," which featured James Dumm (Fox Street) on lead vocals, into Toto's "Africa" and finally Madonna's "Like A Prayer" that really brought the house down.  As the Gospel strains faded away the whole group took the stage and sent the lovers home to bed with one of the biggest hits of all time, The Righteous Brothers' "You've Lost That Lovin' Feeling."  For anyone that was there, it was a night that won't soon be forgotten and for those that weren't…well…there's always next year.
Energy: A
Musicianship: A
Sound: A-
Stage Presence: A+
Set/Light Show: A-
Overall: A
Music has always been a part of my life. It probably all started listening to old Grateful Dead, Peter Paul & Mary, and Simon & Garfunkel records that my parents had, but it wasn't long before they were taking me to concerts like Starship, Crosby, Stills & Nash, and Huey Lewis & The News. I got the bug to write about music after reviewing an Eric Clapton concert for a creative writing project in high school but didn't really take it up seriously until 2002. Since then I have published countless articles in The Marquee Magazine and done some work for Jambase.com, SPIN Magazine, and various other outlets. I started Listen Up Denver! as a way to share the music information that is constantly spilling out of my head with people who care. Please enjoy!