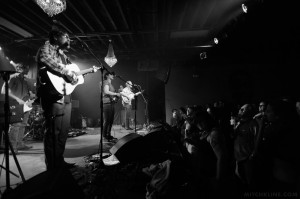 Photos by Mitch Kline
The Scene: After last fall's opening slot on the Greensky Bluegrass Fall tour closing run at the Gothic, it's no surprise Cervantes' Other Side was packed with Fruition fans last Friday.  While many of them were most likely new fans like myself, I noticed many singing along with the band on every song.  The front of the room was full of energy, and the whole night had a great vibe.
Opener: The Drunken Hearts. After a great dinner we finally made our way over to Cervantes' in time to catch the last few songs of The Drunken Hearts. With a heavy lean toward country, we couldn't stop hoping that they'd bust into "The Devil Went Down to Georgia!" This is a fun band, and I'm looking forward to catching a full set as soon as possible.
Fruition: Portland Americanagrass rockers, Fruition posted up at The Other Side Friday night for a WinterWondergrass warmup [Editor's Note: Check out our review here]. A very enthusiastic crowd greeted the band as they worked their way through a solid first set, with Jay Cobb Anderson, Kellen Asebroek, and Mimi Naja all trading vocal duties on favorites like "Git Along" and "Blue Light" from their latest studio effort, 2013's Just One of Them Nights. The highlight of the set was, without a doubt, when Adam Galblum from The Drunken Hearts joined the band on fiddle for the last four songs, including a take on John Prine's "Fish and Whistle" and set the tone for what was sure to be a fun second set. Unfortunately, our night ended at set break, so we'll file this one under "I wonder what happened second set!"
Energy: A
Musicianship: A
Sound: A
Stage Presence: A
Set/Light Show: B
Overall: A-