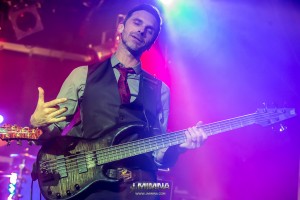 Photo by Jim Mimna
Why You Should Go:  Because the POTW this week is well…POTW. David Murphy (formerly of STS9) returns to Cervantes' this Friday with his Pink Floyd tribute Pigs on the Wing, which features a plethora of talent from a myriad of musical backgrounds.  The band provides audiences with an interpretation of Floyd that harkens back to the early 70s "Live At Pompeii" sound.  In the past the band has recreated Pink Floyd albums in their entirety such as Animals and Wish You Were Here and this year Pigs on the Wing surely has something special in store for hard core Floyd heads and music lovers alike.
Murphy and his bandmates will be supported by Tiger Party, a collaborative musical project led by keyboardist Blake Mobley, which features musicians from both the East Coast and Colorado. This group of ever-changing musicians has brought in players from bands like Lotus, Signal Path, Octopus Nebula, The Malah, The Bridge and many more. As the lineup changes so does the music, making each show a unique experience for both the audience and the tiger-musicians.
Venue: Cervantes' Ballroom, 2635 Welton Street, Denver, CO 80205 – 303/297-1772
Doors: 8:00 pm. Show starts at 9:00 pm.
*Price: $15.00 Adv. $20.00 DoS. Buy Tickets
*All prices are gathered from other sources and we are not responsible for mistakes or inconsistencies. They are intended only as guidelines. Please, always call the venue if you desire the most accurate information possible.