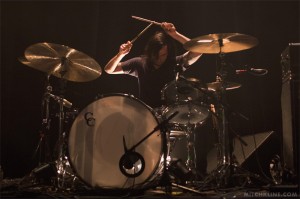 Photos by Mitch Kline
The Scene: It's been nearly seven years, and four studio albums, since the first (and last) time I saw Russian Circles. That first show was May 23, 2006 in Omaha, NE, just a week after the release of Enter, their first studio release. Russian Circles was the second band on a stacked bill at Sokol Underground (max capacity: 315), including local heroes Criteria and headliners Minus the Bear. I was there to see Criteria, but left the show with Russian Circles in my head. Something has come between me and seeing this band live the past few years, so I was looking forward to this show since the day it was announced.
Regardless of the genre you want to put these three bands in, the vibe on this night was much more Post-Rock Indie than Metal. There were no mosh pits, no shirtless fans, and few if any signs of the horns the entire night, but each band was met with great enthusiasm from the mostly full room.
Openers: Inter Arma and KEN Mode. The day before the show, I listened to exactly one song from each of the opening bands. That was easily enough to convince me to show up early for their sets. Richmond, VA has a thriving metal scene, with heavy hitters Lamb of God, Gwar, and Pig Destroyer all calling Richmond home. Inter Arma also calls Richmond home and, after their thirty minute set, I believe the rave reviews they've already garnered for both their studio efforts and their live shows. Their set was a slowly building swirl of psychedelic sludge that I thoroughly enjoyed. In contrast, Winnipeg hardcore trio KEN Mode came out with a thirty minute non-stop crushing onslaught of grooved out noise. This was an intense set to say the least. I'd definitely like to see both of these bands when they're able to stretch out on longer sets.
Russian Circles: This was the perfect Russian Circles set for a newer fan or someone who hasn't seen the band in seven years. With nothing more than stark white backlighting most of the show, the trio flawlessly worked their way through at least one song from each of their studio albums, stretching out enough to make their ten song song set last ninety minutes. From the raw beauty of "Carpe" to the ethereal "1777" and "Schiphol," to dark, brooding "Deficit" and "Burial," and scorchers "Geneva," and set closer "Youngblood," Russian Circles proved they've done nothing but become a better band. Not a word from the stage, and not a moment of silence, with any gaps between songs filled with soundscapes, this was a ninety minute wall of stunningly beautiful noise.
Energy: A
Musicianship: A+
Sound: A
Stage Presence: A
Set/Light Show: B
Overall: A-