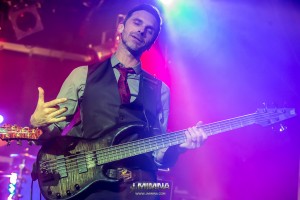 Photo by Jim Mimna
The Scene: Cervantes' was packed with a healthy mix of hardcore Pink Floyd fans looking to get a little weird and the usual Denver suspects as former STS9 bass player David Murphy brought his Pigs On The Wing project back to Denver.   With local favorites Tiger Party on board to kick things off, the near sold-out crowd was treated to a night of infectious dance grooves and psychedelic classics that did not disappoint.
Tiger Party: If you haven't at least heard the name Tiger Party around town here in Denver its safe to say you've probably been sleeping in a cave,  under a rock, with a bag over your head.  Since moving out from Baltimore, keyboard player Blake Mobley's project has burst onto the scene bringing a sound as diverse as the rotating lineup Mobley assembles for his shows.  With an ever changing group of musicians on stage, Tiger Party's sound varies greatly depending on who is playing. With members of Lotus, Signal Path, The Malah, Octopus Nebula, and even Murph (although he did not don his tiger stripes for this show) joining the pack, every Tiger Party show has its own unique feel.  While most would identify them as more of an electronic-rock act,  Friday featured two of Mobley's former bandmates (Basshound) from the east coast, Nathan Graham and Greg Maly,  and leaned more towards a Jazzy, Funk vibe than usual.
That funky vibe was on display right from the get go with "Til I Hit"  and permeated the air as Cervantes' started to fill in.    "Justified," a song from TP's 1st album that Mobley has also recorded with local favorites, Fox Street, had heads bobbing and people singing along to it's irresistibly catching hook.  This song also featured vocalist Ashley Niven, another new Tiger I had yet to see with the band before.  Ashley's sultry voice and playful vibe on stage brings yet another level to a band that seems to be constantly evolving from night to night.  By now the room was full and asses were shaking as TP dropped LCD Soundsystem's "Home."  "Home" brought out that electro-jamrock sound Tiger Party fans have come to love as Mobley, Graham, and Maly, along with O-Neb bassist Fleeb Thomas locked into a serious dance groove.  After the Basshound original "15 Funk"  kept the dance party flowing,  the band threw things back a bit with The Zombies' classic "Time of The Season."  With the end of their set looming the Tigers whipped one more cover out of their repertoire as RJD2's "The Horror" closed things out.
If you haven't seen Tiger Party do yourself a favor and get to a show soon.   There are few bands in town that can bring this level of fun and talent to the stage each night and to say big things are coming would be an understatement.
Pigs On The Wing: Friday night saw former STS9 bassist David Murphy bring his Pink Floyd tribute to Colorado for the 3rd time.  Along with his Athens based ensemble, this mission was accomplished as Pigs ripped through two sets chock full of both classic Floyd favorites like "Comfortably Numb," "Another Brick In The Wall," "Have A Cigar"  and "Wish You Were Here" along with deeper cuts from albums like Animals and Meddle that left hardcore Floyd fans in awe.
While there are certainly no shortage of Pink Floyd tribute bands out there,  Pigs On The Wing separate themselves from most.  Bands like Brit Floyd and the Australian Pink Floyd Show may have bigger productions and even play venues like Red Rocks but they lack a certain rawness that is essential to capturing the essence of the Floyd.  The polished sound and flashy lights those other bands bring certainly lend themselves to a good time, but Pigs On The Wing captures the angst and nastiness that is at the heart of what Pink Floyd is all about in a way other bands don't.
From the start it was obvious the band was ready to get out there opening with the epic "Echoes" and hitting on multiple tracks from Animals including ripping versions of "Sheep" and "Dogs."  As I said earlier,  Pigs plays with a certain rawness, which is not to be confused with being sloppy,  and that really sets the tone for what they do.  With songs as familiar as those in the Pink Floyd catalog, its not so much the notes played that makes Pigs On The Wing so damn fun, but instead it's how they do it.  After 5 years of playing together there is a tightness and timing these guys exude that morphs these classic songs from sing along radio hits into some seriously dark and dirty jams.  To me this is much truer to the Floyd sound than some of those previously mentioned bands that seem more like plastic copies than musicians giving an honest take on things.  This honesty was on full display as the band ripped through an amazing version of "Shine On You Crazy Diamond."  I've seen dozens of bands and guitar players take a crack at this one and honestly I don't think I have seen that song nailed like Pigs did it on Friday.  Guitarist  Matt Weiss (Collective Efforts)  had jaws on the floor as he utilized that aforementioned timing and feel to absolutely destroy the iconic guitar solo that kicks off Floyd's nine part opus.  There was a force and fury to his playing that showcased the passion most in the room have for this music.  For me this was by far the highlight of the show despite "Shine On" not being close to the top of my list of favorite Pink Floyd tunes.
The second set kicked off  with Dark Side Of The Moon's "Breathe"  followed by a killer segue dropping into "In The Flesh."  At this point in the night most could only laugh in amazement at the precision and raw emotion coming off the stage as the band continued to crush these classic songs.  "Another Brick In the Wall"  brought an unexpected dance party feel to the room and showcased Pigs ability to let loose a bit and fall back into the jam scene from which most of them come from.   No Floyd show would be complete without some sizzling female vocals and Pigs did not disappoint.  Vocalist Chelsea Hoffert added to the mix both sonically and aesthetically as she made her Denver debut to the delight of many in the crowd.  However, lead Vocalist Timi Conley (Kites to The Moon) would not be overshadowed and his talents were on display all night.   This was especially true on "Pigs (Three Different Ones)" which was my highlight of the second set.
It would certainly be easy to write off Pigs On The Wing as just another cover band, albeit a great one, but  that would be doing the band a great injustice.  While they may be playing another band's music, they do so with a precision and raw emotion that sets them apart for any other Pink Floyd tribute act I have ever seen.  Any Floyd fan would be crazy not to check them out but more than that,  Murph and these other amazing musicians have captured something very special that you can only get from a band that is as dialed-in and tight as this group is.  Hopefully we see more from Pigs On The Wing soon.
Energy: B+
Musicianship: A
Sound: B+
Stage Presence: A-
Set/Light Show: B+
Overall  A-

Gary is a lifelong music fan raised in Chicago. He is the "G" of J2G Live, a Denver based music production company that brings you "Dance Party Time Machine," "Revenge of the 90's" among other great events.