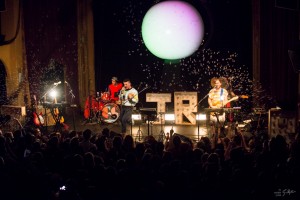 Photos by Ty Hyten
The Scene: A sold out sea of early twentysomethings filled the dance floor of The Bluebird this past Saturday night for indie-pop outfit Dale Earnhardt Jr. Jr. A large white ball hung above various lights, machine gun-like industrial bubble makers and bulb-filled J's and R's – a bit more over-the-top and outlandish than you'd typically find at the smaller venue.
The Opener: Chad Valley.  Chad Valley, the moniker of the UK's Hugo Manuel, who also fronts Oxford's Jonquil, turned a few heads and gained fans with an opening set that started slow then gradually ripened the crowd with poppy 80's synth lines over straightforward electronic beats. Joined on stage by Paula Martinez, the duo took turns floating lofty vocals over tropical tinged soundscapes.
Dale Earnhardt Jr. Jr.: A clutter of abstract digital noise and guitar tinkering preceded the hard-hitting beat of "Hiding," Saturday's feel good opener from Detroit's Dale Earnhardt Jr. Jr. The foursome followed with a digitally pulsating cover of Randy Newman's "I Think It's Going To Rain Today" from their new mixtape, Produce. Frontmen & songwriters Daniel Zott and Joshua Epstein gracefully delivered their infectious harmonies while playing keys as absurd amounts of bubbles shot from opposing bubble cannons and floated across the stage. One of their biggest hits, "Morning Thought" came mid-set and was followed by the dance inducing "Run," my favorite from last year's The Speed of Things, a song that feels equal parts Shins & Passion Pit.
Giant marquee style "JR"s flashed on stage and the large white ball hanging overhead came alive with a toy face that bobbed to the music, shifting it's gaze around the venue as the smell of weed filled the air. "Last time we were here, we played at the Hi-Dive. This is great!," remarked Epstein.
Moving from singing into his 1980's phone receiver taped to a mic stand, Epstein sang into the humbucker on his guitar during the ethereal "Vocal Chords." The dancing, drinking, and singing ended with a bang when "We Almost Lost Detroit" signaled the obligatory run off stage.
"A Haunting" was the band's answer to the cheering, but it was the two songs to follow that topped off the show. The evening climaxed with a heavy dance combo of  "If You Didn't See Me(Then You Weren't On The Dancefloor)" that featured Zott appropriately taking to the dancefloor and "Nothing But Our Love."  Bubbles fell on my dancing head as they wrapped the song with a metal twist, screaming the lyrics.
The night was everything I expected, a catchy indie-pop dance party, with plenty of feel good, light hearted jams. And, as if that wasn't enough, I made my way down the block to Lost Lake for another one of their packed, booze drenched, dance parties. Saturday featured a lengthy DJ set from Daniel Zott and Joshua Epstein that had the dive bar dancing and mingling until daylight savings sprung the clocks forward.
Energy: A
Musicianship: A
Sound: A-
Stage Presence: A
Set/Light Show: A
Overall  A