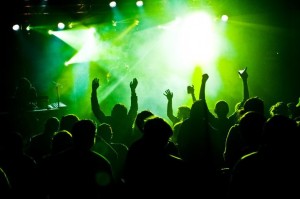 This Friday,  The Ogden Theatre will get a healthy dose of electronic rock as the Philadelphia based quartet Conspirator rolls into town for night 4 of their 5 night run out here in Colorado.  Denver stand outs YAMN are co-headlining the bill and will be celebrating the release of their new album The Unity of Opposites.
For the uninitiated, Conspirator is led by Aron Magner and Marc Brownstein of Disco Biscuits fame, and reflects a unique take on EDM by bringing the live band element into the equation.  Recently, with Chris Michetti on guitar and the new addition of Greg "Torch" Sgrulloni on drums, the band has taken things back to their improvisational roots merging EDM and the electro-rock sound Magner and Brownstein have pioneered over the years.  This has led to some extended jamming and very interesting segues, something Magner and Brownstein have perfected with The Disco Biscuits, but is a surprisingly fresh take on things from Conspirator.
With several previous incarnations of the band leaning towards a more tracked out, production heavy sound, fans can expect something new and exciting on this current tour as they stretch out their catalog of songs like never before.  Having played over 50 shows in CO over the last five years (counting TDB and other projects) its obvious these guys love playing in Colorado and after a 17 date East Coast and Midwest tour they are on their A game right now.
For YAMN,  March is has already been an exciting month with big things coming from the band.  They recently added a new member, keyboardist Nicolai Afanasenkov, and have just released a new double disc album The Unity Of Opposites.
The Unity of Opposites is a fitting name for the new album as one disc leans towards their EDM sound while the other has a more heavy, Rock and Roll sensibility to it.  Fans should expect this type of sound from a band that has been doing this at their live shows for years and will continue to blend those two worlds. Meanwhile, the addition of Afanasenkov on keys has brought some stability to a group that has seen its share of turnover the last few years.  "He's a synth whore and we are all synth geeks" said bassist David "Dewey" Duart before adding "Its been so much fun."  Afansenkov was so excited to join the group he has already started bringing interesting new ideas to the table and has even written a new song.
"Its a pretty big deal.  Exciting stuff," Duart said of having their album release party at The Ogden.  "The band has worked really hard and we are proud of what we have done…We want to keep enjoying the ride."  The album will be available for a special "pay what you want" deal at the show and on yamn.bandcamp.com.   The band will also be raffling off a live painting with proceeds benefiting Youth on Record along with a food drive for Conscious Alliance.  Those coming to the show can bring 10 non perishable items and they will receive a special poster.  We  can be sure to hear some tracks from the new album, some YAMN classics, and hopefully a killer cover or two.  Here is a clip from the last time YAMN played the Ogden.  moe.'s Chuck Garvey joined them for a rousing rendition of the Motley Crue classic "Home Sweet Home".
)
Washington based Acorn Project will be kicking things off so come down to The Ogden on Friday night and get ready for a serious electronic throw down.
Gary is a lifelong music fan raised in Chicago. He is the "G" of J2G Live, a Denver based music production company that brings you "Dance Party Time Machine," "Revenge of the 90's" among other great events.