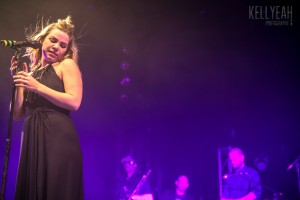 Photos by Kelly Hueseman
The Scene: There's always that weird lull between the holiday season and spring. Luckily there's always one thing to do, especially in Denver, and that's check out the awesome live music circuiting through our town. At The Fillmore on Saturday night, you could definitely feel the energy of people happy to be lining up for two of the funkiest bands around, and happy the weather was nice enough not to bring a jacket. By the time Robert Randolph & The Family Band took the stage around 9:15, the huge chandeliers adorning The Fillmore's ceiling bathed the shoulder-to-shoulder crowd wearing big smiles in a faint purple glow.
The Opener: Robert Randolph & The Family Band. Having checked out Robert Randolph & The Family Band a handful of times live before, I was prepared for loud, unexpected, lively musicianship onstage. What I wasn't prepared for was Robert Randolph wrapping his set by inviting a guitarist from the 16th Street Mall to join the band onstage for three songs. And beyond that, I wasn't prepared for this random dude to literally crush his three songs, as if he had been rehearsing with the band for weeks.
Let me back up by saying Robert Randolph & The Family Band had the crowd pumped up from start to finish of their set. I'm always excited when a band is made up of family members who've been playing together since they first learned their instruments. This band is tighter than ever and sounded incredible on Saturday night. Robert Randolph literally "twerked" over his pedal steel guitar at one point, shaking his legs in the air to the hollers and yelps of excitement from the Denver crowd.
At one point the esteemed steel guitar player from New Jersey blurted out "Yes sir!" with unbridled abandon and joy over the sounds from his band behind him. He has much to be excited about – his band was literally tearing up the stage with a sound and an energy you can't just go out and find on-demand. Bassist Danyel Morgan laid down a tight groove as Randolph's sister and vocalist, Lenesha Randolph, came sauntering onstage and started slowly heating up the stage with her smoky vocals. Her thick, soulful voice reeked of the Deep South, and describing her voice as "unique" would be much too chill of a description.
While the band played favorites like "Shake Your Hips," the highlight of their set most definitely reverts back to my earlier comment about the guitar player from the 16th Street Mall. If you're not from Denver and you're reading this, know that the 16th Street Mall is a place where musicians of all backgrounds and skill levels bring their instruments and play for whoever will stop and listen. On this fateful Saturday, one lucky musician was granted 30 minutes of attention from Robert Randolph himself.  After intently listening and asking for more from the guitarist, Randolph asked him if he'd like to sit in with his band at The Fillmore that night. The story was told to all of us as the guitarist walked onstage. My friend and I were just coming to terms with the fact this was actually happening when suddenly Randolph handed the mic to a girl in one of the first few rows, and invited her to come onstage as well after hearing her soaring vocals. It's moments like these that Robert Randolph and The Family Band are known to bring to their live performances. We all felt like part of "the family" that night.
Galactic: I have to say – many people in the crowd seemed like newbies to Galactic, but before you knew it word had caught on that there was a Funk throw down happening on Colfax and The Fillmore seemed to squeeze even more people in. All night, the dance floor was a place of close bodies and friendly spirits, making a random night in March all the more pleasant.
For those of us, including myself, who have been fans of Galactic for over a decade, it was new (at least to me) to hear Maggie Koerner on lead vocals. After the band warmed up the crowd without vocals, Koerner came center stage, grabbed the mic, and captivated the crowd for the rest of Galactic's set. With confident stage presence and sultry vocals, Koerner led the band through songs including her own "He Calls Me Mama," which was bluesy, sexy, and a song I immediately downloaded when I got home. During "Dolla Diva," Koerner got the crowd engaged right off the bat by leaning into the audience and asking for everyone to sing along. We all were, and by the time she announced she'd be singing James Brown's "It's a Man's World" in honor of International Women's Day, we were all putty in her hands. The layered rhythms from Stanton Moore (drums) and Robert Mercurio (bass) are unmatched in the industry and it was a true musical indulgence to be hearing these guys play for us. During "Hey Na Na" from Galactic's latest album, Carnivale Electricos, I turned around and saw nothing but euphoric dancing and friends making new friends. This jazzy, ridiculously fun music can really only be heard at a live Galactic show, and lucky for me I'll be hearing them again soon at New Orlean's Jazz & Heritage Festival.
If you missed Galactic or Robert Randolph this time around, make sure and get yourself some the next time around. On a mid-winter's night, you really can't ask for more of a summertime feeling than what you'll get at one of these shows.
Energy: A+
Musicianship: A
Sound: A
Stage Presence: A
Set/Light Show: B
Overall: A
After growing up in Missouri listening to vintage records of The Allman Brothers, Carly Simon, and Stevie Ray Vaughan, I was hooked to the live music scene and the contagious sounds of guitar licks and soulful lyrics. After moving to Colorado, I've been contributing to Listen Up Denver! as a freelance photographer and writer. I've also started a side project, KellYeah Photography, which gives me the opportunity to pair my passion for live music with my creativity and love of being around people. Aside from photography and writing, I'm an avid hiker of Colorado 14ers and a beer enthusiast.