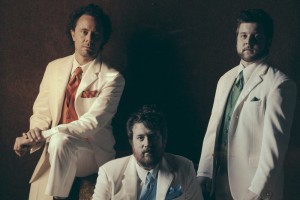 Music is all about connectivity.  It is nothing short of miraculous how human beings called musicians create vibrations that mingle together to forge cohesive (or dissonant) sounds that then float through space and time to find the ears of other human beings who in turn interpret what they hear through more sounds, words, dance, and visual mediums creating a web of interconnected thoughts and ideas that spread out into the universe infinitely.  While we human beings are obsessed with order and therefore must classify everything that our senses perceive creating what we call "genres," Music itself (with a capital M) defies classification.  For example, we may say, "I like Punk Rock," or "I like Jazz," but what we sometimes fail to recognize are the connections between these two superficially disparate genres.
Two groups of musicians that exemplify the interconnectivity of Music are Jacob Fred Jazz Odyssey and Mike Dillon Band.  Besides coming together in Colorado for three nights and being on the Royal Potato Family label, these two bands, in their histories, musical backgrounds, and personalities, have a lot to teach us about how Music is truly the one language that binds us all.  In chatting with the bands' respective leaders, Brian Haas and Mike Dillon, Listen Up Denver! set out to connect you, our readers, with their wisdom.
It is a testament to the dangers of generality that Jacob Fred Jazz Odyssey has been shoved under the umbrella term of "Jamband," especially since the word "Jazz" is in their name.  However, this sloppy nomenclature is also a testament to the interconnectivity of Music.  What is Jam but a synergy of the improvisation of Jazz with the energy of Rock & Roll and the groove of Funk?  This is my own oversimplification but in that light perhaps JFJO is a Jamband? Perhaps, but they are so much more.  They insist on stepping out from the umbrella and turning their faces to the refreshing rain of musical diversity.
JFJO began its musical odyssey twenty years ago in Tulsa, Oklahoma.  What many people don't know is that the band has strong roots in Hip-Hop, as well as Jazz.  An early incarnation of the band included horns and MCs, and although the group has seen sixteen different members, according to Hass the changes have never been calculated.  "It's always a really organic, effortless process.  We just let the music boss us around."  An example of letting the music take control was the band's 2011 album Race Riot Suite.  The conceptual album tells the story of the 1921 Tulsa race riots where city leaders were responsible for the death of hundreds of African American Tulsans.  The band felt deeply in their hearts that the story needed to be told and they adjusted their instrumentation accordingly; expanding from a quintet to a nine-piece ensemble to tour the album. "Sometimes you just let the music take you on the journey," Haas admitted.  In recent years, that journey has found JFJO trimmed down to a sleek trio consisting of founding member Haas on acoustic piano, Fender Rhodes, bass Moog, and synth; Chris Combs electric guitar, lap steel, and synth; and Josh Raymer on drums.  With new changes come new challenges, and JFJO accepts these changes and challenges with open arms.
While JFJO might not have a bass guitar player, their instrumentation, along with some help from their friends at Moog Synthesizers, allows them to have two bass players.  I'll let Brian explain: "I've got a Moog Sub Fatty and Chris has a Moog Minotaur.  So, when I'm not playing bass with my left hand Chris is playing bass with his right hand."  This double attack cultivates some unique bass work.  "Combs is a great bassist.  What is interesting is that as a guitarist a lot of times when he plays bass he uses his right hand.  Because he's not a pianist, when he wants to play a bass line he's going to use the hand he's most adept with, and so it gives him this whole other take, stuff that I could never play because I'm playing bass with my left hand.  So it's really cool because there's these two completely different bass personalities in Jacob Fred," Haas says.  While JFJO has had on and off bassists over the years, Haas sees playing bass in JFJO as another extension of the organic nature of music.  "It goes back to the music dictating it.  I really, really, enjoy playing bass with my left hand.  I love it."  By following the music Haas has made connections within himself but also with others, most notably his own band mates.
The other two thirds of JFJO, Chris Combs and Josh Raymer, came to play in the band by following their own musical connections, and for them it's something of a dream come true.  "Combs and Raymer started listening to Jacob Fred when they were in early high school.  Jacob Fred has always been one of their favorite bands since they started going to see live music.  So, they came up with this language, and from my perspective I wouldn't be able to do it now without these two cats.  It's a very symbiotic relationship.  They grew up with this music and it has been very influential for them, but now Combs and Raymer are very much changing the music.  Now, they are the evolution," Haas says.  That evolution brought the trio to Denver where they filmed and recorded their new live album Millions at Dazzle Jazz. Although it was the music that led Jacob Fred to Denver, the decision to record a live album at Dazzle was not a spontaneous one.
Over the past three years JFJO has forged a fruitful connection with Dazzle, Denver's Jazz headquarters.  "We absolutely love that club," Haas says.  "Dazzle is one of those rare Jazz clubs on planet earth that actually works as a club.  It's very cool."  Dazzle certainly has that old timey Jazz feel and fittingly Millions will be released on vinyl only for Record Store Day on April 19th.  Although Millions contains no new material, the live renditions of past JFJO songs is amazing, and the band stayed on in Denver to work on their newest studio effort at Colin Bricker's Mighty Fine Productions, who also recorded the live album.  Haas is excited about the new album.  "We recorded nine brand new songs and it's not like anything I've ever heard.  It's super unique and very relevant.  It tells a story like this band has never told before."  As Jacob Fred Jazz Odyssey continues to create their own story, another group of musicians led by Mike Dillon follows their own musical path, a path that has crossed often with JFJO.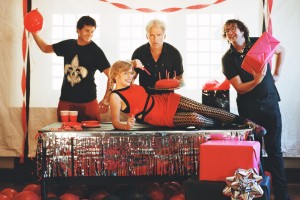 "Mike is one of our old school heroes.  There's nobody on earth like him," says Haas about vibraphone virtuoso Mike Dillon.  Mike's fierce individuality comes from his deep connection with music and his willingness to forge his own path.  This path has led him through many different places, instruments, and bands with all of these things shaping Mike's music and personality.  Now, with a band of his own, a new record, and a substantial western tour, Dillon is ever looking to the future and it all started with a faithful decision over twenty years ago.
The vibraphone is like a xylophone but with resonator tubes attached to each bar that allows for a wider range of sounds and effects.  While it is a fairly common instrument in Jazz or studios, you would be hard pressed to find a Rock band in the early eighties who used vibraphones onstage, except for maybe Frank Zappa.  This was the atmosphere that young Mike Dillon stepped into.  Like many musicians just starting out, Dillon gravitated to the drums and this led him to play percussion in school bands.  Band opened him up to a whole range of percussion instruments, including the vibes.  Dillon then attended the prestigious music school at North Texas in Denton.  But Dillon had yet to really forge his own path on his instrument.  "Although I had a natural knack at it, vibes always intimidated me.  If I did a full mallet classical piece whether it was Bach or a modern piece like Lee Howard Stevens or whatever, you practiced for a month and then you gave your performance in the recital hall, and your teacher told you what you were doing wrong.  That's great, that's where I came from, but then I took some vibe lessons in college and the whole idea was to play the song and then improvise over some chords.  I was sort of terrified.  I was like 'what the fuck are you talking about?'" Dillon said, amidst laughs.  Although improvisation was a new thing for Dillon, his talent allowed him to make the top Jazz band at North Texas: no small feat.  It would take a bit of serendipity to really endear Dillon to the vibes.
The vibes are not a cheap instrument and, up until college, Dillon had been renting his.  But North Texas isn't cheap either and when Dillon fell behind on his rental payments he came close to giving up the instrument.  "I was so far behind on my rent the guy said 'hey you owe me a thousand dollars on vibe rentals,'" Dillon remembers.  "Then he said, 'why don't you just give me three hundred bucks and the instrument is yours."  Dillon jokes that he stole the instrument because at three hundred dollars he practically did, but through his good fortune Dillon was able to forge a deeper connection with the instrument.  The connection was so deep that even when Dillon succumbed to drug addiction in the early nineties, losing a major label record deal and selling all of his instruments, there was one that he kept.  "I lost everything, except for my fucking vibraphone," Dillon says.  Still struggling with addiction it would be a Jazz legend that inspired Dillon to really get back to his instrument.
After watching a Thelonious Monk documentary in 1994, Dillon had an epiphany about the mystical connection that music creates.  "I wanted to touch people the way Monk inspired me.  So, I just started practicing vibes all the time, sucking, but getting better."  Mike was on the right path and he began fronting bands like Hairy Apes BMX and Critters Buggin'.  For Mike it didn't matter what the music was called.  "I was writing songs in a Rock or Jazz situation, Jamband whatever you want to call it, but it was a vehicle to do my thing, get better, and improvise.  I was getting to where I was developing my own language on the instrument.  Then before you know it Les Claypool sees me opening for him and was like 'you wanna play mallets with me?'"  It was soon evident to Dillon that he wanted to do his own thing and thus Mike Dillon Band was born.
Like JFJO, Dillon has his own Denver connection: Namely his band.  The other three members of Mike Dillon Band, Carly Meyers, trombone and percussion; Patrick McDevitt, bass; and Adam Gertner, drums, all grew up in Denver and attended the Denver School of the Arts. After school the trio migrated down to New Orleans, the Denver/NOLA connection being another strong one, where they met Dillon.  While their new album, Band of Outsiders, has a very Punk Rock feel, it also has a lot of Latin flavors that Dillon picked up playing in Mexico but Dillon is wary of general classifications.  "I'm a Jazz guy but the problem with Jazz is that sometimes it can be too intellectual.  I wouldn't necessarily say we're a Punk Rock band but on this record we consciously said 'let's bring a lot of that same energy," Dillon says. Mike Dillon Band, like Jacob Fred Jazz Odyssey, know that it is the energy the music creates that counts, not what you call it.
Mike Dillon Band and Jacob Fred Jazz Odyssey Colorado Dates:
March 19th at Shine in Boulder
March 20th at Hodi's Half Note in Fort Collins
March 21st Cervantes' Other Side in Denver
Nate Todd was born on the central plains of Nebraska, but grew up on the high plains of the Texas panhandle. With not much to do in either place, music was his constant companion. His parents dubbed the first two albums he ever owned onto a tape for him. Side A was Bert and Ernie's Sing Along. Side B was Sgt. Peppers. His lifelong love affair with music started early as he practically grew up in a Rock & Roll band, with his father and uncle often taking him out on the road or into the studio with them. Nate began performing live at sixteen and hasn't looked back, having played in numerous bands from L.A. to Austin. At the age of twenty he was bitten by the writing bug, and upon moving to Denver decided to pursue a degree from Metropolitan State University where he recently graduated with a B.A. in English and a minor in Cinema Studies.