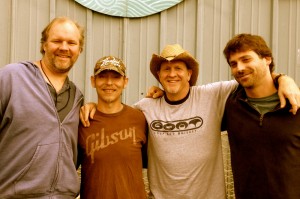 The Scene: When I walked up to Cervantes' Other Side last Saturday night there was the usual throng of people waiting to get tickets.  The fact that Madlib was playing next door made for a healthy, eclectic mix of folks out to enjoy their Saturday night.  After getting my ticket I ambled into the darkened doorway and was greeted by the usual Denver Jamband suspects out to groove to the tunes of the "daddies and granddaddies" of the Jam scene: Phish and the Grateful Dead.  But the opening band, Pigeons Playing Ping-Pong, whose high-energy sound did not disappoint, impressed upon my ears.
Opener: Pigeons Playing Ping Pong.  Pigeons Playing Ping-Pong immediately made an impact on me and, after chatting with a few people in the crowd, I came to find out that I was not alone. Hailing from Baltimore, this four-piece has the sound output of a much larger band.  One of the first things I noticed were some synth sounds when there was no visible keyboard player.  At first it seemed as if guitarist Jeremy Schon was using a Midi device to melt faces with some tasty synth leads, but drummer Dan Schwartz seemed to handling some ambient electronic sounds as well.  Whatever the case, Pigeons ability to multi-task sets them above most two guitar four-piece bands.  After cycling through some funky, feel-good originals with lyrics like "Celebrate the people you love," the band launched into a murderous version of the Talking Heads' "Psycho Killer" before ending the set with an original entitled "Julia" about an archetypal girl we all know so well.  The whole time bassist Ben Carrey pumping out driving bass lines and guitarist Greg Ormont was captivating the crowd with wide-eyed grins.  Although their Colorado tour is coming to end, these guys will be back.  Do yourself a favor and check them out.
DeadPhish Orchestra: In a gracious nod to Pigeons, DeadPhish opened up the first set with a funky "Birds of a Feather" before seguing into crowd favorite "Reuben and Cherise."  The consummate cover band then embarked on a mammoth DeadPhish sandwich—the band's bread and butter—beginning with another ornithological nod in "Birdsong."  Sandwiched between "Birdsong" was the opener of Phish's 2003 album Round Room, "Pebbles and Marbles."  When the floaty, jangly riff of "Playin' In The Band" emanated from guitarist Paul Murin's axe I knew we were in for a wild ride.  Not to be outdone by Pigeons, the band launched into a "cover of a cover" in the Talking Heads' "Cross-Eyed and Painless" followed by a funky "Estimated Prophet" into a rollicking "Suzy Greenburg" back into "Playin'."  Whew!  What a set!
As if to say "You guys still got a full set ahead of you," DeadPhish opened the second go round with "The Music Never Stopped" into one of my favorite Phish covers: TV on the Radio's "Golden Age."  Then came another massive sandwich that included classics like "Brown Eyed Women,"  "Squirming Coil," "Samson and Delilah," and "Runaway Jim."  Next came every Jam musician's nemesis, "You Enjoy Myself," which Murin, keyboardist Ted Tilton, bassist Brian Adams, and drummer Chris Sheldon pulled off flawlessly.  While the Grateful Dead are not bereft of complicated songs, there are certain Phish songs that up the ante when it comes to complexity.  For a band to pull off jam odysseys like "YEM" and "Squirming Coil" shows a complete dedication to the music of Phish as well as a tireless work ethic.  It is through their dedication that DeadPhish set themselves apart in a scene where cover bands seem to be popping up like dandelions.  I doff my cap to you sirs.  The band closed out the night with a rocking encore of "Loving Cup" into the day appropriate "One More Saturday Night," which contained "Frankenstein" teases leaving all us Phans with visions of summer tour dancing in our Dead heads.
3/8/14 – Cervantes' Other Side – Denver, CO
SET ONE: Birds of a Feather > Ruben & Cherise, Birdsong > Pebbles & Marbles > Birdsong, Playin in the Band > Crosseyed & Painless > Estimated Prophet > Suzy Greenburg > Playin Reprise
SET TWO: The Music Never Stopped > Golden Age > Brown-Eyed Women, The Wedge > Touch of Grey, Squirming Coil > Morning Dew > Runaway Jim > Samson & Delilah > Runaway Jim, YEM# > Cumberland Blues

Encore: Lovin' Cup > One More Saturday Night.
(#w/Frankenstein teases. Pigeons Playing Ping Pong opened.)
Energy: B
Musicianship: A
Sound: B
Stage Presence: B
Set/Light Show: B+
Overall: B+

Nate Todd was born on the central plains of Nebraska, but grew up on the high plains of the Texas panhandle. With not much to do in either place, music was his constant companion. His parents dubbed the first two albums he ever owned onto a tape for him. Side A was Bert and Ernie's Sing Along. Side B was Sgt. Peppers. His lifelong love affair with music started early as he practically grew up in a Rock & Roll band, with his father and uncle often taking him out on the road or into the studio with them. Nate began performing live at sixteen and hasn't looked back, having played in numerous bands from L.A. to Austin. At the age of twenty he was bitten by the writing bug, and upon moving to Denver decided to pursue a degree from Metropolitan State University where he recently graduated with a B.A. in English and a minor in Cinema Studies.