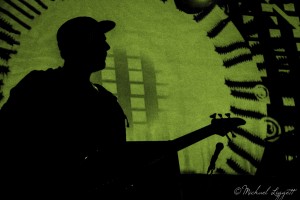 Photos by Michael Liggett
The Scene:  A healthy sized crowd piled into The Ogden last Friday night to welcome Philadelphia's Conspirator and help celebrate the new album release party of local favorites YAMN.   Fans of electronic based Rock and Roll were not disappointed as they witnessed a night of dance grooves, epic sit-ins, and top notch jamming from giants of the genre.
YAMN: Fresh off the road from a week long tour that took them from the Pacific Northwest back around to Summit County,  YAMN hit the stage ready to unleash a handful of new tracks from their new  double disc album Unity of Opposites.   Things kicked off with "Day Walker," "Hammer," and "Suspended Animation," 3 well executed compositions from the new album, the latter showcasing the bands ability to stay locked in yet sound very loose.  "Suspended" has an almost G Funk feel to it and had the whole room grooving.  After keeping things in that groove space for the first few tunes the band shifted gears into the exhilarating "Air Halten."  With driving synth and guitar, "Air Halten" is the first track on Unity of Opposites and flaunts what YAMN is all about.  This song is a perfect fit for the tension and release peaks the band can build and they let it rip bringing the nearly full theater to a fever pitch.
After a few more of the new tracks kept the party going, Conspirator's Chris Michetti joined in on the fun for a monster version of the Joe Walsh classic "Rocky Mountain Way."  YAMN has been known to toss out a cover like this from time to time and as novel as it may be, it really shows off  another side of the band.  Steeped in Classic Rock tradition, these guys can get heavy and this one brought the house down.  Its great to see a band that can mix it up and show two very strong sides to their coin.  Unity of Opposites really puts that on display so check it out at yamn.bandcamp.com and don't miss these guys live.
Conspirator: Let me start by saying this: If you are familiar with Conspirator, forget everything you've heard from the band in a live setting.  Over the past few months the foursome have morphed, taking a departure from a more tracked out and produced sound to a looser, improv based feel that suits them very well.  From its conception in 2004, the band focused less on the trancefusion sound bassist Marc Brownstein and keyboard player Aron Magner helped pioneer with The Disco Biscuits, and instead geared things to sound almost like a live band version of what you'd hear from an EDM producer.  Recently, with the new addition of drummer Greg "Torch" Sgrulloni and Guitar player Chris Michetti now on year 3 of being a permanent fixture, Conspirator has really hit its stride and gotten back to their  jamming roots.  This has produced some unbelievably fun nights of music on this tour and we caught maybe the best yet.
Magner and Brownstein have made careers on  fusing the unabashed dance party of electronic music with driving Rock and Roll and from the start the band was unrelenting.  With seamless segues linking several 15-20 minute jams, the over two and a half hour set was a nonstop assault on the Ogden crowd that exceeded the expectations of even their most devoted fans in attendance.  Bisco favorites "Orch Theme" and a rowdy "Digital Buddah" helped give the crowd some familiar territory to get down to and even sing along.  The band did not completely abandon the more traditional Conspirator sound but, as opposed to leaning on the womps and wobbles of their live Dubstep attempts, they used these down tempo moments as a landing pad from the exploratory heights reached in their jams.
The night apexed with Brownstein welcoming Dominic Lalli from Big Gigantic and former STS9 bassist David Murphy to the stage.  I won't lie, at this point, with it being close to 2am, things were a little fuzzy but with Dom throwing down some silky smooth sax on top of the ferociously bouncing dance groove, the band brought the night to a raging peak.   After an over 150 minute set of pretty much nonstop dancing, most in the crowd were pretty spent but when the 6 man crew dropped into what i can only describe as a techno tease of "Another Brick In The Wall," the crowd went nuts one more time.
Its tough to get blown away for the first time by a band that you've seen over a dozen times but Friday night definitely re-peaked my interest in Conspirator and I hope they continue down this path.   With the pedigree of these musicians and the exuberance they have found with this new lineup,  Conspirator could be the sleeping giant that just woke up.
Energy: B
Musicianship: A
Sound: B+
Stage Presence: B
Set/Light Show: A-
Overall  B+
Gary is a lifelong music fan raised in Chicago. He is the "G" of J2G Live, a Denver based music production company that brings you "Dance Party Time Machine," "Revenge of the 90's" among other great events.