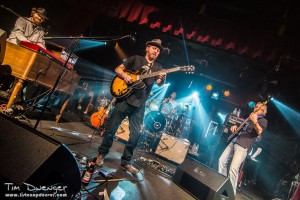 Photos by Tim Dwenger
The Scene: While Cervantes' Ballroom wasn't packed Last Friday night, it was nice that there was room to dance, chat with friends between songs, and not have to swim through a sea of humanity just to make it to the bar.  The 20 somethings had packed The Other Side for Twiddle so it was a bit of an older crowd who danced the night away to Americana courtesy of a retooled Great American Taxi and some New Orleans Funk from New Orleans Suspects.  One things for sure, those who made their way out were treated to a fantastic night of music.
New Orleans Suspects:  Every time I see New Orleans Suspects, whether on the Acura Stage at JazzFest in New Orleans or at a version of Quixote's here in Denver, they seem to get better and pack more punch into every note and last Friday at Cervantes' was no different.  These boys are bubbling over with true New Orleans soul and watching them in action is enough to inspire anyone to move their feet and shake their hips.  Whether they are jamming on New Orleans classics, injecting their own flavor into a Little Feat gem, or delivering a rock solid original that would make any Crescent City musicians weak in the knees with respect and appreciation, The Suspects keep it drum tight and swingin'.
Friday night saw Reggie Scanlan, Jeff Watkins, Jake Eckert, "Mean" Willie Green" and Denver's own CR Gruver showcasing a few tunes from their upcoming album entitled Ouroboros alongside favorites from their self titled debut and a few choice covers.  This being a "hometown" show for Gruver it was no shock to see the salt and pepper scruff of his old Polytoxic bandmate, Tori Pater, show up on stage midway through the set but a sit-in from Lyons resident Arthur Lee Land was a bit more of a surprise.  Lee Land added some tasty guitar to the mix and was seen watching from the wings for much of the night.  With no clear "frontman" or leader on stage, this quintet allows each member to stretch out and strut their stuff as rollicking piano rolls yield to wailing saxophone solos and then screaming guitar riffs while one of the nastiest rhythm sections in the business holds everything together.  It's a hell of a ride and one I hope to take again very soon!
Energy: B+
Musicianship: A
Sound: A-
Stage Presence: A
Set/Light Show: B
Overall: A-
Music has always been a part of my life. It probably all started listening to old Grateful Dead, Peter Paul & Mary, and Simon & Garfunkel records that my parents had, but it wasn't long before they were taking me to concerts like Starship, Crosby, Stills & Nash, and Huey Lewis & The News. I got the bug to write about music after reviewing an Eric Clapton concert for a creative writing project in high school but didn't really take it up seriously until 2002. Since then I have published countless articles in The Marquee Magazine and done some work for Jambase.com, SPIN Magazine, and various other outlets. I started Listen Up Denver! as a way to share the music information that is constantly spilling out of my head with people who care. Please enjoy!