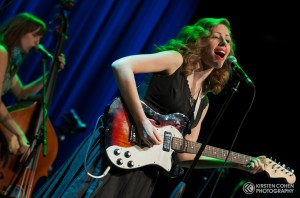 Photos by Kirsten Cohen
The Scene:  The sun was setting and parking was hard to come by, but as the casually dressed crowd strolled into a packed eTown Hall at 7:00 pm, it felt like the room was abuzz with more than the regular show anticipation. Attending an eTown radio show taping is a little different that seeing a concert: everyone is seated and it's a great opportunity to see a band an intimate setting that includes conversation and interviews.
Eilen Jewell: Eilen Jewell and her band graced the etown stage with a decidedly cool mix of Country/Rockabilly/Folk style songs including "Rio Grande" and "Santa Fe." Jewell has a clarity and sweetness to her voice that made for an engaging performance.
Lake Street Dive: Lake Street Dive struck me as one of those bands that seemed as though they were made to perform in eTown's intimate venue with unparalleled sound. From the first note of opening song "Stop Your Crying" singer Rachel Price mesmerized with her powerful voice and stage presence. Through the pop sensibilities of "Bad Self Portraits" and the jazzy "Clear a Space," the mellow and rich sounds courtesy of Price, stand up bass Bridget Kearney, Horn player Mike Olsen, and drummer Mike Calabrese made for what was frankly, one of the best shows I've seen in the newer eTown hall.
During the interview portion of the taping, Nick Forster asked them about their early history at the New England Conservatory as jazz students and what it was like to recently appear on shows like Colbert and Ellen. The band was "grounded and glitzy" in their approach to recently being in the spotlight, as host Forster so expertly pointed out.
The quartet displayed their rock sensibilities when they took the stage after the interview performing "Bobby Tanqueray" and a cover of Paul McCartney and Wings' "Let Me Roll It" as Price showed her chops on the electric guitar. The jazzy "You Go Down Smooth" left the crowd whooping, clapping, and smiling. The night ended, as it always does, with a crowd pleasing finale that this time included Eilen Jewell and Nick & Helen Forster on a stunning cover of The Beatles' "Don't Let Me Down."
Energy: A
Musicianship: A
Sound: A+
Stage presence: A
Set/lights: B
Overall:  A 
Kirsten was born in Austin and bred in Boulder by guitar playing, Beatles-loving parents. Her heart, mind and soul developed with a soundtrack playing constantly in the background. Growing up in the shadow of the majestic flatirons provides her with a unique connection to local music in Colorado and the larger community that supports it. Her schooling and experience with social work informs her photography and writing by way of observing and capturing the human element of creativity. She is thrilled to be contributing to the growth of music in Colorado and beyond.