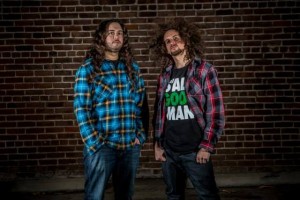 Photo by Jim Mimna
Why You Should Go: Analog Son was created by Jordan Linit (Kinetix/Ableminds) and Josh Fairman (Kinetix) in 2013 around a studio project involving the Shady Horns, Ryan Zoidis and Eric Bloom (Lettuce/Soulive), Joe Tatton (New Mastersounds), Adam Deitch (Lettuce/Break Science), Mike Marlier, Joey Porter (Motet/Juno What?!), and Joel Scanlon. The debut album to be released in April will be celebrated this Friday at Cervantes' Other Side.  The album was recorded over the past 8 months at Scanhope Sound on the finest vintage equipment and tape machine available to fuse vintage tones with modern production and musicianship. Josh and Jordan called upon their funkiest friends to create music together on the spot in the studio that reflected all of the individuals at the session. They are already working on material for a follow-up release.  Analog Son will be supported by Tiger Party, Atomga, and Steepwater Band making this a must see show!
Venue:  Cervantes' Other Side, 2635 Welton Street, Denver, CO 80205 – 303/297-1772
Doors: 8:00 pm. Music starts at 9:00 pm.
*Price: $10.00
Get Tickets
*All prices are gathered from other sources and we are not responsible for mistakes or inconsistencies. They are intended only as guidelines. Please, always call the venue if you desire the most accurate information possible.