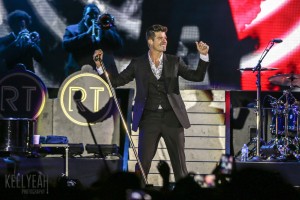 Photos by Kelly Hueseman
The Scene: Before heading out to the Robin Thicke show last Sunday night, the only thing I was certain of was that I wasn't certain of anything. While one can find Thicke's name plastered on tabloid magazines and at the top of Billboard charts as of late, he's also a seasoned artist who has been writing, performing and producing music for over a decade. His headlining show at The Fillmore would be a night to remember either way. And walking in, it was hard to get a good sense of what the energy level would be like on and offstage. Even after DJ Cassidy opened the show­­, the room was less than half full.
Robin Thicke: Although Robin Thicke has been in the music industry for years, he's recently found his place in the limelight and his music is a newfound thing for many due to the blastoff success of his triple-Grammy-nominated Blurred Lines album. The tall, dark and handsome, sharp-dressed Soul singer appeared on stage after a dramatic introduction via his band warming up the crowd and a quick countdown displayed on the large screen behind the stage. Standing on a riser in the spotlight, his full band in front of him and the crowd pushing closer and closer to the stage, it was hard to believe there weren't more people in the audience. Whether or not you agree with his clothing choices (still not sure about the referee-looking suit at the Grammy Awards) his dance partners (ahem, Miley Cyrus) or his personal life, the guy has a great voice, oozes sex appeal and writes some seriously catchy music.
Thicke kicked off the night with "Give it 2 U" from 2013's Blurred Lines album. This was a smart choice, as it showed off the energetic music Thicke has been most popular for, albeit perhaps not the music that shows off his vocal range at its best. With support from backup singers wearing skintight pants and crop tops and doubling as dancers, Thicke was able to set the stage for a night that would mimic his recent live performances that feature him as a ladies' man. Strutting the stage with confidence through every song, Thicke was perhaps most in his element at the piano, where he stayed for most of his song, "Magic," off his 2008 album, Something Else.
In addition to backup singers/dancers, a full horn section, and the entire band outfitted with equipment showing off Thicke's initials, I was surprised when some Rap artists came onstage to bring some authenticity to some of Thicke's songs with Hip-Hop roots.
Throughout the night, the crowd got closer and the dance moves got hotter, especially when Thicke made his way down into the crowd, moving from one side of the audience to the other. Cameras were out and the ladies flocked near the stage to get as close as possible, perhaps hoping they might become the next Mrs. Thicke?
A few musical highlights of the night included "Wanna Love You Girl" from the 2006 release of The Evolution of Robin Thicke and obviously the encore performance of "Blurred Lines," which was smart to save for the last song as it kept everyone out all night.
All in all, it was an interesting night that was much more fun that one might expect. From slow R&B jams (which one guy best described as "baby-making music") to some of the hottest Pop hits on the radio today, Thicke put on a great show that was worth coming out for on a Sunday night.
Energy: A
Musicianship: B+
Sound: A+
Stage Presence: A
Set/Light Show: A
Overall: A
After growing up in Missouri listening to vintage records of The Allman Brothers, Carly Simon, and Stevie Ray Vaughan, I was hooked to the live music scene and the contagious sounds of guitar licks and soulful lyrics. After moving to Colorado, I've been contributing to Listen Up Denver! as a freelance photographer and writer. I've also started a side project, KellYeah Photography, which gives me the opportunity to pair my passion for live music with my creativity and love of being around people. Aside from photography and writing, I'm an avid hiker of Colorado 14ers and a beer enthusiast.