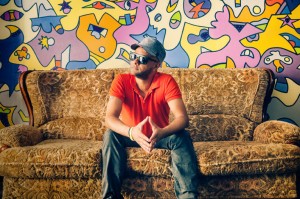 The Scene: With recent resurgence of popularity in the Downtempo and House genres, I am often reminded of my musical roots in the Denver rave scene of the mid-90s. It is rare, however, that I become nostalgic for these antiquated pastimes. Most once-self-proclaimed "party kids" now will avoid using the word "rave" at all costs. We all have to grow up at some point right? I mean, I guess it's not surprising that Kikwear Phat Pants, visors and P.L.U.R. are sources of embarrassment rather than tokens of fond memories past (though I must say, I never saw the candy beads coming back in style but I digress…) The point: every once in a long while, I come across a live music event that captures some of the feelings that I felt so deeply connected to when I was a teenager. Feelings of togetherness, of mutual respect and concern for your fellow show-goer—these are things that the old-school kids can be proud of, and they are also things you rarely see at EDM shows today. To be sure, many of my fellow fallen comrades came out to see Nightmares on Wax at Summit Music Hall last Thursday. They are hard to single out based on appearance alone. Age is a good hint—if you are over 30 and at an EDM show it is almost certain that you raved in the 90s (it takes a true love of music to put up with the youngsters that these shows produce, even if you can fully admit you were once one of them.) Other giveaways: eye contact. Smiles. People holding the door for you. People who apologize when they bump into you on the dance floor (manners—what a concept!) These are all remnants of a scene long lost and forgotten. All of these things happened on Friday. I ran into old friends. Hugs all around. Of course, there were plenty of the hipster nubes running around the joint as well, but the mix was fair and there was a certain air of happiness in the venue that made me feel right at home from the start.
Opener: Mikey Thunder. If you haven't heard, you get a great bang for your buck at the Summit: the doors open early, and the music goes late. When I arrived around 11:15pm, Mikey Thunder's set was already in full swing. Preceeded by JKSoul and CurlyOne, the set list was a replication of a show at Cervantes' in November of 2013; a wise choice by the folks at Sub.mission who presented the show—the place was fairly packed well before the main act took the stage. Mr. Thunder has played a lot of shows around town and is now well-known for his sound, which fairly skillfully combines Jazz, Funk and Hip-Hop influences, layering them over booty-shaking beats. He set the scene perfectly for Nightmares on Wax; it isn't necessarily opening for a Downtempo EDM act—you want to get the audience moving, but you can't go too big, or the mood of the crowd will flop after the transition.
Nightmares on Wax: Seeing the words "DJ Set" on a ticket is not always a point of reassurance. It sometimes feels like a fine-print disclosure that you might not get exactly what you bargained for. On Thursday, this was not so much the case. George Evelyn, of Yorkshire, England has two monikers other than the one he was given at birth. When he is producing music, he is Nightmares on Wax. During his DJ sets, he is known as DJ Ease. Of course, he uses his own home-made beats and samples; like many other EDM producers, the DJ set is more of a way of showcasing the art he has already produced rather than a demonstration of his ability to make music in a live setting. No big surprises were had on Thursday. The cool, groovy music was a perfect compliment for a weeknight out, nothing too crazy or amazing, but he did a good job of capturing the many sounds that he has produced over the years, and rendering them for a varied crowd in a way that appeased everyone's appetite for his own musical idiom.
His ability to blend Downtempo, Acid House and Trip-Hop captures many targets within the varied ladscape of EDM listeners, bringing out a whole range of characters, from thugged out gangsters to dreadlocked burner types and everything in between. Having released his first album in 1991, saying that Evelyn has a wealth of music to cover is an understatement. The set was however somewhat lackluster, maybe because it was Thursday, and maybe because he did not go on until 12:30am (and it was a Thursday). By the time he made his way on stage I was past the point of excitement, and into the "let's get this show on the road" mode—which hardly translates into active music enjoyment. And I know I wasn't alone. The crowd got down, but I felt sure the party would have popped to an entirely different level had it fallen on a Friday or Saturday. Even the artist himself admitted it was not one of his best shows, commenting on his Facebook that it was "not the best sound I've had in this tour, but vibez there all the same." Good vibes, indeed. Not crazy, hyper dance party vibes. But good vibes. And on a Thursday night, that's good enough for me. After all, I am not a teenager anymore.
Energy: C
Musicianship: B-
Sound: A
Stage Presence: C
Set/Light Show: B-
 Overall: B-

Audiophile. Logomaniac. I must get to the show.