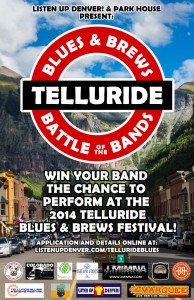 Together with the Telluride Blues & Brews Festival, Listen Up Denver! and Park House are hosting a "Battle of the Bands" event that will give some of the best bands in the Rocky Mountain region the opportunity to perform alongside some of the biggest musical names in the country at the 21st annual Telluride Blues & Brews Festival in September.
Telluride Blues & Brews originated over 20 years ago as a festival focused on Blues and Craft Beer. The music has become more diverse over the years, and now Telluride Blues & Brews has become a destination festival attracting thousands of music lovers from all corners of the United States and abroad. Last year's line-up featured The Black Crowes, Jim James, Melissa Etheridge, John Hiatt, Gary Clark Jr., Mickey Hart and more along with more than 50 breweries who showcased their beers at the festival's Grand Tasting.  This year the line-up features legendary acts like Violent Femmes, George Clinton & Parliament Funkadelic, Robert Cray Band, Anders Osborne, Lee Fields & The Expressions, Dumpstaphunk, Black Joe Lewis and many more!
Whether you are a Blues, Funk, Soul, Gospel, Jam or R&B band, you are invited to submit your band for consideration via ReverbNation or at listenupdenver.com/tellurideblues.   The submission window runs from April 1st through May 15th and then the selection committee will select up to seven bands to participate in a "Battle of the Bands" event that will be held at Park House in Denver on Saturday August 9th.  Each band will be judged by a panel of industry professionals on criteria including:  Talent, Musicianship, Production Value, Professionalism, Songwriting, Crowd Reaction & Stage Presence.
The Winning Band Will Receive:
A performance slot at the Telluride Blues & Brews Festival
Two (2) nights lodging in Telluride or Mountain Village
Artist passes to the festival
Food vouchers
Website and program guide placement
The Runner-Up Will Receive:
One day of studio time in Grammy Award winning producer John Macy's recording studio
A full band portrait session with Denver music photographer Jim Mimna
All Bands Selected to Perform At The Battle of the Bands Will Receive:
Photos of their live performance at the Battle of the Bands courtesy of Jim Mimna Photography
A recording of their performance at the Battle of the Bands
This contest is an incredible opportunity for musicians in Colorado and beyond who are looking for their "big break."  Telluride Blues & Brews is one of the premiere Blues festivals in the country and, with an audience of music lovers that come from near and far, this is a unique opportunity to gain national exposure.
Sponsors:
Breckenridge Brewery, Colorado Blues Society, Jim Mimna Photography, Macy Sound Studios, Native Roots, Lagunitas Brewing Company, The Marquee Magazine, The WeedStream