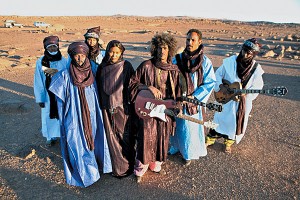 Why You Should Go: How do you compress a thirty-year epic into a few pages? Tinariwen, whose back-story has variously been described as the most compelling of any band (Songlines), the most Rock 'n Roll of them all (The Irish Times), hard-bitten (Slate.com) and dramatic (The Independent), are both a dream and a nightmare for any aspiring music writer: a dream because the most superficial headlines of their tale rebellion, guns and guitars, desert nomads, Ghadaffi, the real Saharan blues are like easy nuggets of gold to thrill-seeking journalists and literary prospectors. And a nightmare, because none of these cliches really do the band justice or even begin to describe who they are, what they feel or the music they play. The following comprises only the chapter headings, the main way markers of the long road the group have traveled from the wild empty places of the southern Sahara desert to the concert stages of the world.
Venue:  The Bluebird Theatre, 3317 E. Colfax Ave, Denver, CO 80206 – 303/377-1666
Doors: 8:00 pm. Music starts at 9:00 pm.
*Price: $30.75 Adv. $35.00 DoS
Get Tickets
*All prices are gathered from other sources and we are not responsible for mistakes or inconsistencies. They are intended only as guidelines. Please, always call the venue if you desire the most accurate information possible.