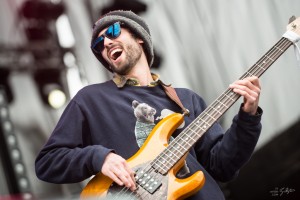 Photos by Ty Hyten
Despite gray skies and the threat of rain, day two of SnowBall Music Festival saw a fired up crowd ready to soak in a diverse lineup of bands, MCs, and DJs at Sports Authority Field. The lineup did not disappoint and the willingness of most concert goers to let their freak flags fly was almost contagious, almost.
My day started with an electric set from Portland's STRFKR on the main stage. The quartet delivered an excessively dancey and fun set and, despite the relatively early time slot, had a decently large crowd. The band broke out a fantastic version of Cyndi Lauper's "Girls Just Want to Have Fun" complete with dancing spacemen and aliens on the stage. Of all the novel moments of the day, and there were several, this had to be my favorite. I won't lie, DJs always draw a very critical eye from me until they prove "worthy" of my dance moves so to start the day off with a band as talented and as locked-in as these guys was a treat. The constant upbeat and almost giddy vibe coming from the stage resonated throughout the crowd, and you could feel wave of disappointment move through them when the band ended their set. If they could have played for five more hours I think we would have all signed up for that. If you get a chance to see these guys I highly recommend doing so.
The festival was set up in the southern parking lot outside of the stadium, making for a quick walk from stage to stage. This was definitely a plus as it was very easy to jump around and hit lots of different acts. After STRFKR ended we made our way to the "Heat Hut" which, to our disappointment, was not heated despite having several hanging L.E.D. lights that looked like they were heaters. Luckily for our cold bones, BONES was inside generating his own heat and threw down an amazing set that had the few hundred in the tent dancing their asses off. This set was what these kinds of festivals are all about. A relatively unknown DJ tearing it up as a bunch of freaks in all sorts of insane outfits, clothes and costumes, say very little to each other and just smile and dance. At one point I am pretty sure I saw a very attractive girl smelling some dudes hair. Normally this kind of behavior would send me to the exit but at SnowBall it was hard to do anything but laugh.
As Bagheera's set drew to a close, we headed back to the main stage to lock down some prime real estate for Yeasayer. For a festival of this size the main stage area was pretty small and at that point it made for a very cool and intimate setting. This would create issues as the night wore on, but more on that later. As the sun began to disappear, Yeasayer hit the stage and immediately had the crowd at its mercy. The group is from Brooklyn but you wouldn't know it from hearing them play. Their haunting harmonies, psychedelic synth sound, and the stage presence of front man Chris Keating give off a distinctly British vibe and echo back to 80s and haydays of bands like Duran Duran and The Cure. This isn't to say that they sound like an 80s band, while they do evoke the spirit of those bands, their sound has a much more modern and evolved feel to it. Yeasayer was a bit mellower than most of the acts on the bill which made it hard for a lot of the kids to "rage" to, but their talents were on full display and they were easily one of the top acts of the night.
Once Yeasayer left the stage the crowd got distinctively more rabid and a lot younger as it was almost time for headliner and one of Colorado's biggest home grown stars, Pretty Lights to hit the stage. I said earlier that the small main stage area made for a pleasantly intimate setting, but as the masses of kids and their rage sticks started to pile in, things became very uncomfortable, very fast. There simply wasn't enough room to house pretty much every single festival-goer (I did a lap and the other stages were just about completely empty) on this very small patch of grass. Despite being slammed in, shoulder-to-shoulder and just about standing on top of each other, the hometown crowd lapped up the beats and rhythms dropped by Pretty Lights. Personally, I will admit, I was underwhelmed. There was very little to grab on to for dancing purposes, and I thought things sound very surface level and generic compared to the rest of the music I heard that day. Had I known that Twin Shadow was something of a 80s revival act, I would have convinced my friends to head over there, as opposed to getting stepped on, pushed around, and just plain bored during the two hour closing set. Guess I must be getting old, as one festival-goer kindly pointed out as I voiced my opinion in between songs.
That said, SnowBall Festival was a lot of fun. The diverse lineup led to a very fulfilling day of varied music and the people watching at an event like this can only be described as next level. While the switch in locations from spots like Winter Park or Avon to a parking lot in downtown Denver didn't exactly lend itself to the atmosphere that SnowBall had in the past, it certainly made things more convenient and a whole lot warmer. Hopefully the poor ticket sales and other rumors that were swirling around leading up to the event don't prevent it from happening again. If I can have fun at this festival just about anybody can, and I look forward to see what they have planned in 2015.
Gary is a lifelong music fan raised in Chicago. He is the "G" of J2G Live, a Denver based music production company that brings you "Dance Party Time Machine," "Revenge of the 90's" among other great events.