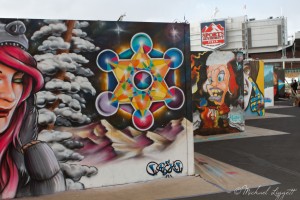 Photos by Michael Liggett 
The 2014 installment of The SnowBall Music Festival veered sharply away from its mountain roots and landed in the south parking lot of Denver's Sports Authority Field about a month later than last year's event. As I walked into the venue around 3:30pm on Sunday, my thoughts immediately turned to how they crammed four stages into such a dinky area. The "Groove Tent," "Ballroom Stage" and "Heat Hut" were basically wedged underneath the Colfax Avenue bridge that borders the venue on the south side of the stadium. This gave the festival a strange urban feel that didn't seem quite conducive to packing in large crowds of colorfully clad youngsters. Ultimately, Denver is a passionate music town and it seems like the SnowBall organizers were able to string together an energetic little festival in a short period of time after months of fruitless searching for a suitable mountain venue. Although the layout of the festival was ill-conceived and the crowd was ridiculously young in age and experience, there were several dominating performances on Sunday that reaffirmed why the SnowBall Festival deserves to occupy a permanent spot on the Colorado concert calendar.
John Maclean better known by his Dance music moniker The Juan MacLean is one of the finest American born DJs to emerge in the Electronic music scene over the last few years. Juan's music breathes classic Deep House with a modern touch. Throbbing beats and sensual vocals pour out of the speakers and the production quality is excellent. Although the crowd at the "Heat Hut" was sparse, I still managed to corral a few friends into a no-holds barred dance-a-thon. After an hour, we finally managed to crack a smile on Juan's face who didn't seem too thrilled at the idea of playing for a tiny crowd under Colfax Ave.
Brooklyn born rapper Busta Rhymes and fellow Flipmode Squad cohort, Spliff Star took the stage at 7:30pm to a packed crowd. Considered one of the fiercest MCs of our time, Busta Rhymes has the energy and personality to rock crowds. The performance was a throwback to 1995 with Busta and Spliff ringing up the classics including "Make It Clap" "Pass the Courvoisier Part 2" and "Touch It." It terms of lyrical delivery and wit nobody compares to Busta Rhymes and although he's aged, the man still parties on stage like it's 1992. A true legend took the SnowBall crowd back to the golden age of Hip-Hop on Sunday evening.
I've worked various positions in the music industry with Madison House, Rock The Earth and Bohemian Nights. My dream is to travel the world and seek out all the good tunes, beer and food that make life so special. I have a healthy obsession with live music and I'm thrilled to share the epic moments with you.