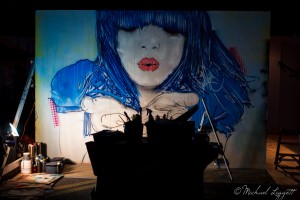 Photos by Michael Liggett 
The 2014 SnowBall Music Festival opened Friday night at Sports Authority Field at Mile High in a new home and with a fresh lineup that went well beyond another night at the club. While Dubstep was indeed the king of the evening, high-fashion Disco and dirty Shoegaze did not go unsung. The weather was a factor—despite being a week into April, a damp chill in the air made it feel more like winter in San Francisco than spring in Denver. Cool temperatures, however, did not dampen the spirits of the modestly sized crowd, and the mass of visually expressive twentysomethings revealed that the Colorado rave scene is alive and well. Abundant glow sticks and faux fur were no surprise, and more than once I wished I had my Etnies baseball cap with me. I was tempted to ask one of the neon-hoodied beardos to explain just how slightly askew is appropriate.
Wardrobe notwithstanding, the local Electronic Dance crowd is generally appealing, and we settled in amongst friends as Escort took the ballroom side stage. Front woman Adeline Michèle is not only striking, but also elegant and downright mesmerizing. Powerful and feminine, she belted out wonderful Disco vocal lines and bass hooks on hits like "Starlight" and "Cocaine Blues." Eugene Cho was masterful on synths and laptop. Sporting a reduced travel lineup (seven members instead of the normal 17), the band was amazingly tight and energetic, delivering a polished and professional performance. Escort can obviously command larger stages and later time slots, so it was a treat to dance to them up close with such a small and adoring crowd.
At the conclusion of their set, we had time for a more thorough look around the festival. In addition to the standard menu of multiple stages, merch and beer tents, and well-meaning (if superfluous) good-cause representatives, the creative centerpiece was a full-size, zigzagging, standalone wall, providing blank canvas space on both sides. By early evening the wall was buzzing with activity, already heavily colored with a variety of clever visuals. I wondered what would be left for artists over the rest of the weekend, but hey—smoke 'em if you got 'em.
Upon our return to the cozy comfort of the ballroom stage, we were treated to an unexpectedly powerful set from the all-L.A., all-girl and all-badass Shoegaze quartet, Warpaint. Sexy, despite possible efforts to the contrary, these ladies jumped in at a low simmer and ended at a combustible smolder. Performing tunes like "Love Is to Die" and "Biggy" that could make the Cocteau Twins jealous, the group constructed deep, thick, evocative multilayered jams. It's true that early on I mistakenly thought I was hearing The Sundays jamming with Portishead and Courtney Love at Lilith Fair, but that misconception quickly faded. As Warpaint progressed through their set with solid song after solid song, a different realization arose: these women are a tightly knit unit with their own sound. They can flat-out play.
Already satisfied with our evening, we stopped by the main stage for one last taste of  SnowBall Friday night. Naturally, a solid Dubstep headliner was on the bill. And naturally, the consolidated crowd, now in full party mode, was eating it up. Knife Party put on a clinic and demonstrated just how evolved the genre has become. It's a bit like a once-struggling start-up that becomes successful, eventually gobbling up other small companies, until it one day awakens to find that it, itself, has become the corporate behemoth—still managing to appeal to a wide swath of loyalists, yet perhaps having lost the idiosyncratic spark that once made it special. Of course, Knife Party was just spreading the catchy brand of the Dubstep they love, and they clearly rocked the house—undoubtedly sending their loyalists home happy.
At the end of it all, the organizers and the acts both deserve hearty thanks for a fun night of diverse music in a first-time location. Will this go down as the hottest festival ticket of the year? Perhaps not. But the performers killed it and the fans loved it, and that's really what it's all about.