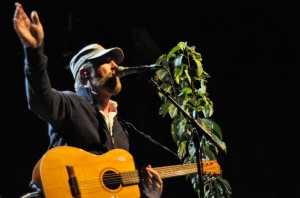 All Photos by Tim Dwenger
The Scene: I wandered into The Ogden about a quarter to 8 last night to find the room only about half full.  With only 15 minutes to the scheduled start time, and no opener on the bill, this was a bit surprising to me but I made my way down front and mingled with the all ages crowd that was hanging on to spots on the rail with all their might.  Wedged in next to each other there were middle aged folks who had clearly been listening to CAKE for longer than the high-school kids next to them had been alive.  As the place continued to fill in, and the 8 o'clock hour approached, I was struck by the great mix of people brought together by the quirky and almost inexplicably unique music of Sacremento's finest.
CAKE: About 10 after 8 the lights went down and a message, in both English and Spanish, welcomed the crowd and instructed them to turn off their cell phones and refrain from taking pictures.  As the message faded away, triumphant music blared from the PA and for nearly 10 minutes the anticipation in the room built to a fever pitch.  Just when I thought the place would explode, John McCrea, Vince DiFiore and the rest of CAKE emerged from the shadows to a thunderous ovation.
The band slid right into a mariachi sounding instrumental that soon yielded to crowd favorite "Frank Sinatra" as a disco ball threw light to the furthest corners of the packed room.  Though McCrea didn't break out the Vibra-Slap until 5 or 6 songs into the set, he sounded spot on in his speak-singing style as DiFiore supplied the trademark trumpet fills that, combined with the nearly ever present Vibra-Slap, contribute to that ever so distinct "CAKE" sound.
Before the band played "Mexico" from their 1998 album Prolonging The Magic, McCrea thanked the crowd for coming and dedicated the song to all the fans with Mexican or Latin American heritage before telling the audience that the song was "in 3/4 time, unless you are listening to the drums, then it might be in 6/8."  While this got some chuckles from the crowd, it was only a brief teaser at the humor the band is famous for.  The show really kicked into gear when the combination of "Love You Madly" and "Wheels"  got some of the biggest reactions of the evening.  Nearly everyone in the room was singing every word to both songs and the band was feeding off the energy.
Then things took a turn for the stranger, as if that's a surprise at a CAKE show, and McCrea led the band into a 5 song segment that was comprised completely of songs from the bands new album Showroom Of Compassion.  Fortunately I was familiar with the new songs, as the album has been growing on me recently after a slow start, but there were a lot of confused folks standing around me.  While they were able to move a bit to tunes like "Federal Funding" and "Long Time," "Mustache Man" and "Bound Away" saw the bathroom and bar lines start to stretch out a bit.  As he introduced the fifth song of this segment, "Sick Of You," McCrea announced that the band would be doing two sets because he felt it was much more of an "adult format that would allow us reflect, to think back on the mistakes we've made during first part of the evening."  While the song isn't my favorite on the album, it was clear that McCreahas developed it very well as a vehicle to really drive audience participation.  Midway through the song, he split the crowd in two, right down the middle, and gave each side a section of the chorus to sing.  As he joked with fans about which side they were on, and whether he was coming between families and friends, the energy in the room skyrocketed and the 50 minute set ended on the songs booming chorus sung by more than a thousand voices.  While the set definitely lost some pacing in the middle, CAKE finished strong and left us all hungry for more.
After a brief 20 minute break, McCrea and company returned for a much more evenly paced set that opened with "Sad Songs & Waltzes" from 1996's Fashion Nugget.  Then a trio of songs that included "Opera Singer," "Sheep Go To Heaven," and "Guitar" led into the point in the evening where McCrea ran a game show of sorts to give away a tree that had been sitting on the stage next to him all night.  He acknowledged that this portion of the evening might drive some folks crazy as it was "taking up music time," and pledged to keep it as short as possible.  With that he posed one supposedly simple question to the throng of eager, would be tree owners.  "What kind of tree is this?" he asked, and began to call on fans who waved their hands in the air.  Answers like "Oak," "Peach," "Orange," and even "Pineapple" were tossed out and got some good laughs before a shaggy guy named Waverly correctly guessed that it was a Cherry Tree.  More specifically a "self fertile, Bing Cherry Tree."  After McCrea went through a little ceremony where Waverly promised to plant the tree within a month and send photos in to the band every few years of him and his tree "no matter how fat you get, or how wrinkly," CAKE returned to doing what they do best, making music.
The set wrapped up with "Never There" and the band said their goodbyes and headed off stage.  Within seconds the chant of "We Love CAKE" filled the air and they returned for a blistering encore.  Black Sabbath's "War Pigs" opened the three song mini-set and as fists pumped in the air and a few heads were banged, I remembered how much I love CAKE's approach to cover tunes.  They make them their own, purely and simply.  They are in no way trying to sound like Sabbath on "War Pigs" just as they weren't trying to sound like Gloria Gaynor on their cover of "I Will Surive" or Bread on "Guitar Man."  They were simply being CAKE and I'm not sure they know how to be anyone else, nor do they want to.
In good 'ol rock-n-roll show fashion, they save two fan favorites for the end and wrapped up the set with the stunning one-two punch of "Short Skirt, Long Jacket," and "The Distance."  It was a fitting end to a good show.  They had indeed gone the distance over the course of two sets and even though the pacing wasn't perfect, it carried their trademark quirk and was highly entertaining.
Energy: A-
Sound: A
Musicianship: B
Stage Presence: A-
Set/Light Show: B+
Overall: A-
Music has always been a part of my life. It probably all started listening to old Grateful Dead, Peter Paul & Mary, and Simon & Garfunkel records that my parents had, but it wasn't long before they were taking me to concerts like Starship, Crosby, Stills & Nash, and Huey Lewis & The News. I got the bug to write about music after reviewing an Eric Clapton concert for a creative writing project in high school but didn't really take it up seriously until 2002. Since then I have published countless articles in The Marquee Magazine and done some work for Jambase.com, SPIN Magazine, and various other outlets. I started Listen Up Denver! as a way to share the music information that is constantly spilling out of my head with people who care. Please enjoy!