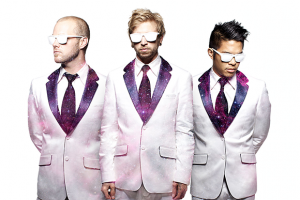 We've got a pair of tickets to give-away for The Glitch Mob on Friday night at The Fillmore!
To be entered, just post "I wanna see The Glitch Mob at The Fillmore" on our Facebook wall.

For those of you not on Facebook, shoot us an email at listenupdenver@gmail.com saying: "I wanna see The Glitch Mob at The Fillmore!"
PLEASE NOTE: Entry deadline is 5pm MST Wednesday, April 23rd and the winner will be notified by email or Facebook no later than 5pm MST on April 24th.
Why You Should Go: The Glitch Mob has enlisted the music tech masterminds, roboticists, and hackers at Name the Machine to create an innovative and completely unique performance technology platform. By taking advantage of the latest advancements in computing power and cutting-edge, customizable music software, their live performance changes the game for how all electronic music will be performed from now on. Among the myriad innovations being unveiling on the tour is a custom-built technology that lets the band trigger samples in real-time, and play them like live riffs, infusing their electronic music performance with improvisation, and the energy and drama of a live rock show.
Originally a 5 piece electronic band (now 3 piece) The Glitch Mob was were founded in L.A. in 2006 and consists of edIT (Edward Ma), Boreta (Justin Boreta) and Ooah (Josh Mayer). They played a huge part in the L.A. beat scene, and have gathered a large following from the area. They have released two albums Drink the Sea in 2010 and Love Death Immortality 2014.
Venue:  The Fillmore Auditorium – 1510 Clarkson, Denver, CO  80218 – (303) 837-0360
Doors: 7:00 pm
*Price: From $39.50
Purchase Tickets
*All prices are gathered from other sources and we are not responsible for mistakes or inconsistencies. They are intended only as guidelines. Please, always call the venue if you desire the most accurate information possible.