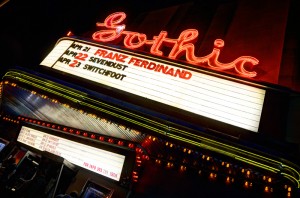 Photos by Todd Radunsky
Franz Ferdinand, one of the most influential bands to ever come out of Scotland, took the stage here in the US on Monday night at Denver's historic Gothic Theatre.
The Indie-Rock band played a super tight show to a sold-out crowd of devoted fans who rocked and sang to every song.  The stage lighting, moody and sometimes dark, only added to the overall energy and artistry of the evening. Monday night's concert showed why the band has been around for more than 10 years, playing to fans around the globe. Coming to the Gothic and rocking the house down like they did, Franz Ferdinand once again showed that they truly are one of Indie-Rock's best live acts.
I work in the music industry photographing bands live and offstage for publicity. My work includes shooting concerts, festivals, and portraits of musicians and bands. I shoot for promoters, record companies, publicists, magazines, band managers, and individual musicians. I also photograph weddings, and portraits and have traveled the world to do so. I've shot weddings in Cali, Ireland, Mexico, Cape Cod, and Amsterdam to name a few.