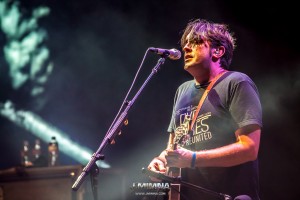 Photo by Jim Mimna
The Scene: Breckenridge, Colorado; home to a quaint, Western, mountain town and world-class skiing. When Yonder Mountain String Band announced that they would be one of the many acts to come through Breckenridge this spring, naturally the Rocky Mountains had to be incorporated. It was 65°F and sunny, which, in that altitude is rather warm. The day could not have been more beautiful, and to makes things better the town of Breckenridge is home to a number of tasty cafes, lovely boutiques and of course, Breckenridge Brewery. Downtown was busy, humming with fans, tourists and locals all looking for a quick bite, a cold beer and lots of sunshine. Then, a gondola ride up to Peak 8, where a stage had been constructed literally on the hill, with skiers and snowboarders cruising past. Before departing on our gondola to Peak 8 at Breckenridge Ski Resort, we tried to explain to a pair of Argentinean men on vacation what Bluegrass was, and why it was happening here, of all places. Beer and merchandise tents had popped up where typically we would be strapping up our boots and boards, and the contrast of activity going on was highly amusing.
Yonder Mountain String Band: Starting out with their well-known cover of the Rolling Stones' "No Expectations," whose title was well-chosen in summarizing the entire experience—on a snowy mountaintop, listening to Bluegrass. This show marked mandolin player Jeff Austin's return to Colorado with the band after his paternity hiatus, and the boys took a moment to shout-out to his baby daughter, welcoming her to her first of presumably many concerts. The crowd was joyous and the sun was everywhere, illuminating the makeshift venue, and taking us for an pleasantly unpredictable ride. The boys jammed out classic tunes, and this first half of the show was consistently, dependably YMSB.
Almost halfway into the show things got a bit more complicated. Apparently, a note had been delivered to the hotel room of YMSB prior to the show, and the boys granted the wish upon the note by playing "Mother's Only Son." Then, most predictably and yet still an incredible surprise came "Steep Grade, Sharp Curves." Hailing for Nederland, the boys had to pass the countless signs along I-70 warning truckers of the Interstate's notorious steep grades and sharp curves. Whether the drive to the mountains spurred an idea in their heads or not, the song was fitting.
Here came the end-of-show sandwiched jams! "If You're Ever In Oklahoma" came first and last, with the fan favorite "Half Moon Rising" and the hyper-jam "Traffic Jam" coming in between. Having started around 3pm that afternoon, we got a solid two hours of Yonder-ing. The encore brought another jam-sandwich going with "Troubled Mind" seeping into "20 Eyes" and back into "Troubled Mind" before YMSB took their graceful leave from their mid-mountain stage.
Now, only five days later, the band has issued a formal statement explaining that front man Jeff Austin is departing from Yonder Mountain String Band. He'll be leaving to work on his solo project, which he has been doing for some time now, making his rounds with what he's dubbed Jeff Austin & Friends. Fans who were lucky enough to make this free Breckenridge show last weekend also happened to witness YMSB's last show with the original band lineup. So, we can feel thankful (and somewhat nostalgic) for what we've been granted from this game-changing Bluegrass group while looking forward to what the remaining original members will come up with next. As for Jeff, we're excited for that too! Change is never a bad thing, and it's a blessing to have been in attendance at this historic final show of the original Yonder Mountain String Band.
Energy: A
Musicianship: A+
Sound: B
Stage Presence: A-
Set/Light Show: B
Overall: A-