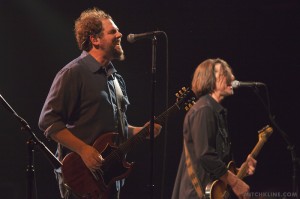 Photos by Mitch Kline
The Scene: The Fillmore was awash in whiskey and weed as the Denver faithful eagerly awaited the cities first legal 4/20 celebration.  Though this show wrapped up before midnight, anticipation was in the air as the Drive-By Truckers brought their own brand of Southern Rock and Roll to one of the biggest Front Range rooms they have played in a long time.
Drive-By Turckers: For one reason or another, until the past few months, I'd never taken the time to explore Drive-By Truckers. I have plenty of friends who are avid fans, and it would make sense that I'd enjoy their music. My first real Truckers related experience came last year when a friend recommended Southeastern, the excellent recent studio album from Truckers alum Jason Isbell and shortly thereafter I dove in to the band's catalog headfirst.
After a month of listening to as much of their music as possible, including their latest studio effort, English Oceans (which certainly grew on me after a few spins) I was excited for my first Truckers show. Based on friends stories of past shows, I had high expectations, but I can't stop thinking that I missed the opportunity to see this band at their best. Don't get me wrong, there were plenty of great moments, with highlights like "Lookout Mountain," "Ronnie and Neil," "72 (This Highway's Mean)," their cover of Warren Zevon's "Play It All Night Long," and the set closing "Hell No, I Ain't Happy." Patterson Hood and Mike Cooley's writing styles create a rollercoaster of a Rock and Roll concert, but sadly I just felt like this show didn't deliver quite the energy that my Trucker fan friends had raved about.
Setlist: Shit Shots Count, When He's Gone, Women Without Whiskey, Lookout Mountain, Hearing Jimmy Loud, Ronnie and Neil, 72 (This Highway's Mean), Tornadoes, A Ghost To Most,  Goode's Field Road, Made Up English Oceans, Hanging On, Gravity's Gone, Play It All Night Long (Warren Zevon), Marry Me, Pauline Hawkins, Natural Light, Hell No, I Ain't Happy
Encore: Birthday Boy, Let There Be Rock, Zip City, Grand Canyon
Energy: B+
Musicianship: B+
Sound: B
Stage Presence: B+
Lights: C+
Overall: B