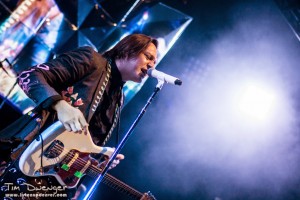 The Scene: Last Wednesday, Arcade Fire fans turned the Pepsi Center into a Masquerade Ball of monster proportions.  Sure, the vast room wasn't remotely close to sold-out, but for the 10 thousand or so that did turn up, it was clear they had been waiting for the evening for a long time.  Thousands of fans were decked out in their best formal attire and costumes as the band had requested on the ticket.  There were men in dapper suits and tuxes as ladies dazzled in their finest dresses alongside caped, face-painted fans who opted for the "costume" part of the dress code.  It may have come off to some as strange to have a dress code request for a concert in a hockey arena, but in the end it made for a much more festive night out and proved to the doubters that Arcade Fire fans can dress to impress.
Arcade Fire: After a brief introduction by a man in a mirrored suit, the huge black curtain dropped and Arcade Fire appeared on stage tearing into the title track from their most recent album, Reflektor.  From the first notes I was reminded why I love seeing this band so much.  The passion, energy and precision that embodies their live show is rare in this business and from the first time I saw them at The Larimer Lounge to their breakout headlining set at Coachella in 2011 in front of 50,000 people, they always pour everything they have into their performance.  Last week was no different and the crowd at the Pepsi Center hung on every note.
While the show was heavy with the Disco infused beats of songs from Reflektor, to the delight of long time fans the group dropped the Funeral gems "Neighborhood #3 (Power Out)" and "Rebellion (Lies)" early in the show.  Admittedly, as I looked around the room, it was hard to find anyone who wasn't singing along with the anthemic choruses of nearly every song throughout the night.  It was almost as if everyone in the room was a "long time fan."
Midway through the set, Win Butler and company launched into a four song run of tracks from their Grammy award winning 2010 record The Suburbs.  "Month of May" and "Ready To Start" cranked the energy up to fever pitch while the crowd swayed and sang along in unison to the album's bouncy title track.  As he prepared to kick-off the group's first ever single, and the track that put them on the map "Neighborhood #1 (Tunnels)," he thanked those in the crowd that had dressed up before revealing "I wrote this song when I was 19 and tonight I'm extremely sick and it's very high here in Denver, so you'll have to help me sing it."  We gave it our all and the band seemed happy with our efforts.
As the set closed with the final full track on The Suburbs, "Sprawl II (Mountains Beyond Mountains)," I was disappointed to realized that only one song ("Intervention") from Neon Bible had made it's way into the setlist.  I've got to admit I'm a sucker for tracks on that album like "Keep The Car Running," "No Cars Go" and even "(Antichrist Television Blues)" and it would have been nice to hear even one of them, but alas, who am I to argue with such a great show.
As the band collected themselves and prepared for the encore, The Reflektors took to a stage at the back of the arena (where DJ Kid Koala had been spinning earlier) in their Papier-mâché heads to perform along with a pre-recorded version of John Denver's "Leaving On A Jet Plane."  When he finally appeared on the main stage, Win Butler quipped "we're actually leaving on a tour bus, but thanks anyway" before kicking off the four song encore with "Normal Person."  After a cover of The Ramones "I Don't Wanna Go Down To The Basement," the band wrapped up the show with the electrifying pairing of "Here Comes The Night Time" and "Wake Up."  It was a powerful evening of music, and I've got say that if Win hadn't told he crowd he was sick, I never would have picked up on it.  Here's hoping he brings his band back to Colorado sooner rather than later.
Energy: A
Musicianship: A
Sound: A
Stage Presence: A+
Set/Light Show: A
Overall: A
Music has always been a part of my life. It probably all started listening to old Grateful Dead, Peter Paul & Mary, and Simon & Garfunkel records that my parents had, but it wasn't long before they were taking me to concerts like Starship, Crosby, Stills & Nash, and Huey Lewis & The News. I got the bug to write about music after reviewing an Eric Clapton concert for a creative writing project in high school but didn't really take it up seriously until 2002. Since then I have published countless articles in The Marquee Magazine and done some work for Jambase.com, SPIN Magazine, and various other outlets. I started Listen Up Denver! as a way to share the music information that is constantly spilling out of my head with people who care. Please enjoy!