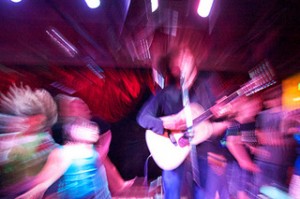 Why You Should Go: Over the last 10 years, Tellerpalooza has grown into Teller elementary school's biggest fundraiser. In 2014, the event returns to the iconic Bluebird Theater – right in the Teller neighborhood! This year will feature performances by some of our favorites in Dragondeer, Chimney Choir, Safe Boating Is No Accident, The Other Black, Amanda Hawkins, along with Teller Advanced Band, Teller Beginning Band, Claymore Disco, Teller Choir, Teller Violins.
This event is not your typical school fundraiser. Don't expect kid music. Expect everything under the sun music. And while, yes, kids are welcome – Tellerpalooza shows what makes Teller special: A community that enjoys a great time, great music and each other. Early in the evening, the stage features the Teller DPS (Denver Public Schools) student band. Later, kids head home to babysitters; parents and local fans stay into the night. Tellerpalooza is old-school with the ever-present bake sale – or if wine is more to your liking, participate in the "Wall of Wine" and you may bring home a large box of assorted favorites donated by Teller parents. Basically, come and plan to HAVE FUN!
Venue:  The Bluebird Theater, 3317 E. Colfax Ave, Denver, CO 80206 – 303/377-1666
Doors: 4:00 pm.
*Price: $15.00 Adv. $20.00 DoS.
Purchase Tickets
*All prices are gathered from other sources and we are not responsible for mistakes or inconsistencies. They are intended only as guidelines. Please, always call the venue if you desire the most accurate information possible.